Something happened to the food in the Vail Valley in the past few years. It got good. Really good.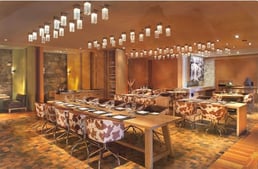 There were always plates of fine food in Vail: Sweet Basil, La Tour, Larkspur, Splendido. I even like the steadfast and reliable prime rib at Lancelot. But recently, celebrity chefs and restaurants have moved into town, changing the palate of this ski hamlet in startling ways.

Wolfgang Puck with the first star chef to move in Las Vegas in 1992 - and that started an invasion that transformed the gambling Mecca into a culinary metropolis. Puck was also the first celebrity chef to open in the Vail Valley, dealing the plates at Spago at the Ritz-Carlton Bachelor Gulch since December, 2007. Spago is the flagship restaurant in the Puck empire, and only four exist: Beverly Hills, Maui, Las Vegas and Bachelor Gulch. It serves up dinner seven nights-a-week. Chef Jared Montarbo has been with Puck for 10 years - and brings with him the Puck ethic of high-end ingredients and Asian influenced American cuisine. "It is more casual than California." he says. "But it is still Spago."

More info on Spago...


In the past year, three big hitters also came to town. Richard Sandoval opened Maya at the Westin Riverfront Resort in Avon, Nobu Matsuhisa opened Matsuhisa in the stunning Solaris building in Vail and Elway's Colorado Steakhouse opened at the Lodge at Vail.


Maya has a magnificent patio with views shooting up Beaver Creek. The food is what you expect from Sandoval, fresh flavors, unexpected combinations, meticulous service. And Friday evening Maya hosts the hottest FAC in the valley. Maya is the peak indeed. A recent lunch there left me searching for superlatives. The location, the views, the food. Madre Mia!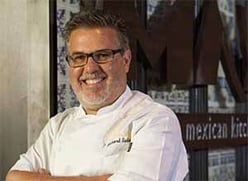 Details: Maya


Matsuhisa has a sister restaurant in Aspen, a snug almost hidden sushi shrine. Matsuhisa in Vail didn't sneak into town. It reigns on the second floor of the Solaris building, overlooking the skating rink in winter, a lawn of playful kids in summer. It is the center point of Vail. As real estate agents like to say, it's on the corner of Main and Main. The food is Vail's standout, and the room (with a bar facing out) and patio are see/be seen hits. "It's been unbelievable from every point of view," says general manager Anthony Viera. "Nobu has been here a few times and finds Vail a perfect fit."

Matsuhisa has a reputation for being outrageously expensive, but it doesn't have to be. You just can't order dozens of sushi patters and gallons of saki. But seriously, the king crab tempura is a miracle, large chunks of king crab embraced by batter, fried, and floating in a sauce of soy, ginger, onions. At $29, it is one of the best dishes I have ever eaten in my life. If you visit Vail, this is a must-stop.

Details: Matsuhisa

Then again, so is Elway's Vail. The football star kept The Drive going with his hit restaurants in Cherry Creek and at the Ritz-Carlton in downtown Denver. Now comes his mountain steakhouse in The Lodge at Vail. It's a little hard to find with precious little signage in town. Just get yourself into The Lodge and follow the smell of the char of prime steak. If you have been to the Denver steakhouses, few surprises await you. Which is a good thing. Excellent prime beef and an array of side dishes and apps that'll sate the hungriest skier or hiker. The design of the restaurant is modern, clean. The patio is where to eat when it's warm enough. Elway's is a thick and juicy addition to the Vail scene.

Detail: Elways

So Vail dining has grown up. The town looks good these days, and it tastes good too. Celebrities don't live in Vail, but let's be thankful that they cook there