Don't miss on one of Vail's most anticipated events of the season! Pink Vail is the only event of its kind in the world. It is not only an excuse to wear a pink tutu and dress your male ski partner in pink spandex but also a great opportunity to make a difference in the fight against cancer. Similar to a run or walk to support cancer, Pink Vail participants register at the event's website and ask their friends and family to make a donation on their behalf. Participants range in age from 1 to 85 years old, and many of them don't even ski on the day of the event. Since 2012, Pink Vail has raised over $2.4 million to benefit all patients at Shaw Regional Cancer Center through enhancements to patient care and underwriting the Spirit of Survival program, which provides complimentary services that can dramatically impact quality of life but are not typically covered by insurance.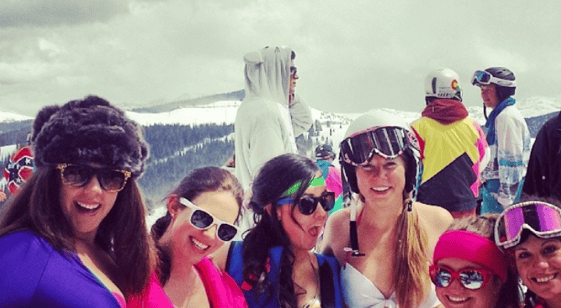 8:30AM PINK VAIL HEADQUARTERS OPENS FOR CHECK-IN
9:00AM – 1:00PM THE WORLD'S PINKEST COSTUME CONTEST
9:00AM – 3:30PM CELEBRATION OF LIFE SKI DOWN
9:00AM – 4:00PM LIVE MUSIC
9:00AM - 4:00PM PINK VAIL SUPERSTAR AREA
9:00AM - 4:00PM - ALL DAY PINK VAIL PORTRAITS
10:00AM – 2:00PM CHECKPOINT CHALLENGE
10:00AM – 4:00PM SUPERGOOP! KID ZONE AT GOLDEN PEAK
10:00AM – 4:00PM MECHANICAL BULL AT GOLDEN PEAK BY KIDSPORT
12:00PM FINAL DONATIONS SUBMITTED
3:30PM - SPIRIT RALLY, AWARDS AND CHECKPOINT CHALLENGE PRIZES
Pink Vail features all-day live music, deck parties, a costume contest, kids zone and incredible prizes.
New for 2017
Pink Vail has moved its headquarters to Golden Peak. This convenient location includes food and beverages and all-day live music from three local bands, Schwing Daddy, Derringer and Rewind. Plus, kids will enjoy a mechanical bull sponsored by KidSport and the new Supergoop! Kids Zone. In addition, skiers and snowboarders can participate in the Checkpoint Challenge, a "deck hop" around to three famous Vail Mountain decks for games, music and the chance at incredible prizes. The costume contest at Golden Peak will award participants for the best individual and group costumes, as well as the "Most Spirited Team." Top fundraisers and Checkpoint Challenge winners will also be recognized. Past prizes have included Head skis; Weston snowboards; Helly Hansen gift cards; Maui Jim sunglasses; food, lodging, spa and yoga packages and much more.
This year, Pink Vail participants will have the opportunity to honor a friend or loved one by skiing or riding in the "Celebration of Life," a symbolic ski run down Whipper Snapper at Golden Peak in the united fight against cancer.
The goal this year is to raise $750,000. Register here or make a donation. www.pinkvail.com<http://r20.rs6.net/tn.jsp?f=001ky9jnJeDbnJ95CQqRGeiGJKfTqVRdMK96PGshnuXmX9FOb5NyrJfFX_NWLglWZU5sJvktJGDQD67fzo6ySc1adp6C1k6BJuBiItheSDrplLRE9QERqahHxWLOnboydD6mEAEBaB6xix65Mk0t19IDbCXkvGyYp_aGRQ2CLm-EgU=&c=2SQgbuP319MUvYQ41wSIeG1WEQeYFY9-TFK7UhDGYQzKT6ldw5h5dw==&ch=lBlBbxT_hSivhv3ftrIYWAMXHHkGEqm9YUKjfM85GiUwp8puWOliGg==>.