With summer now in full swing, Vail has announced they will be continuing the 4th of July tradition known as Vail America Days. However this year, things will be a bit different. Here is all you need to know to have a safe and fun holiday this weekend.
Patriotic Displays
This years theme for the festivities is "Stronger Together". A fitting term for the tight knit ski town. This year on July 4th, instead of the usually parade, the town will showcase over 20 patriotic displays spread throughout Vail Village and Lionshead Village. Created by local businesses and non-profits, the displays are meant to celebrate the holiday in a unique and responsible manner. There will be 15-18 displays in Vail Village and 8-10 in Lionshead and will available for viewing from 10am-5pm.
In addition to the patriotic displays, visitors can except to hear live musical performances throughout the day. Local bands will be performing as mobile musicians in each village. The usual Bravo! Patriotic Concert has been cancelled this year.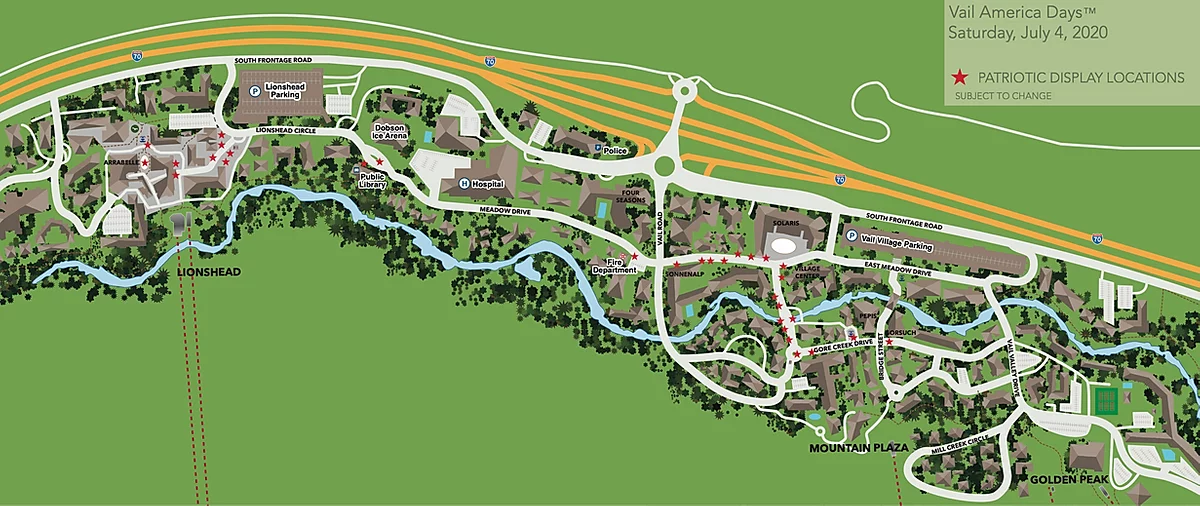 Fireworks
At 9:45pm, the skies of Vail will light up once again with a dazzling displays of fireworks. The show will last approximately 10 minutes and as always are subject to weather conditions. Of course this year will be slightly different from how we all remember it. Vail is asking guests to choose one of the following four options for viewing the event.
Option 1: Live stream
Enjoy the show from the comfort of you own home! Tune in locally on channel 5 or on highfivemedia.org.
Option 2: Drive in
Think drive in movie theater but the sky is your screen. The town of Vail has modified parking areas to allow for more parking and viewing. The following area are the suggested spots: Ford Park, Both Vail Village and Lionshead parking structures and along the frontage roads. Please do not park anywhere unsafe, Colorado State Patrol will be out making sure of that.
Option 3: Watch from where you are
The firework show will be visible from certain neighborhoods around town. If you happen to be staying in one of these then the show will best be viewed from home. Sandstone, Spraddle Creek and Upper Buffer Creek all should have great views.
Option 4: Limited capacity viewing zones
These will be controlled zones set up by the town and will have strict limits on how many people may enter. Locations will open up at 8:30pm and are expected to fill up extremely fast, so get there early. The locations are as follows: Lionshead Lawn, mountain Plaza and the base of Golden Peak.
Stay safe and have a great 4th of July in beautiful Vail, Colorado!