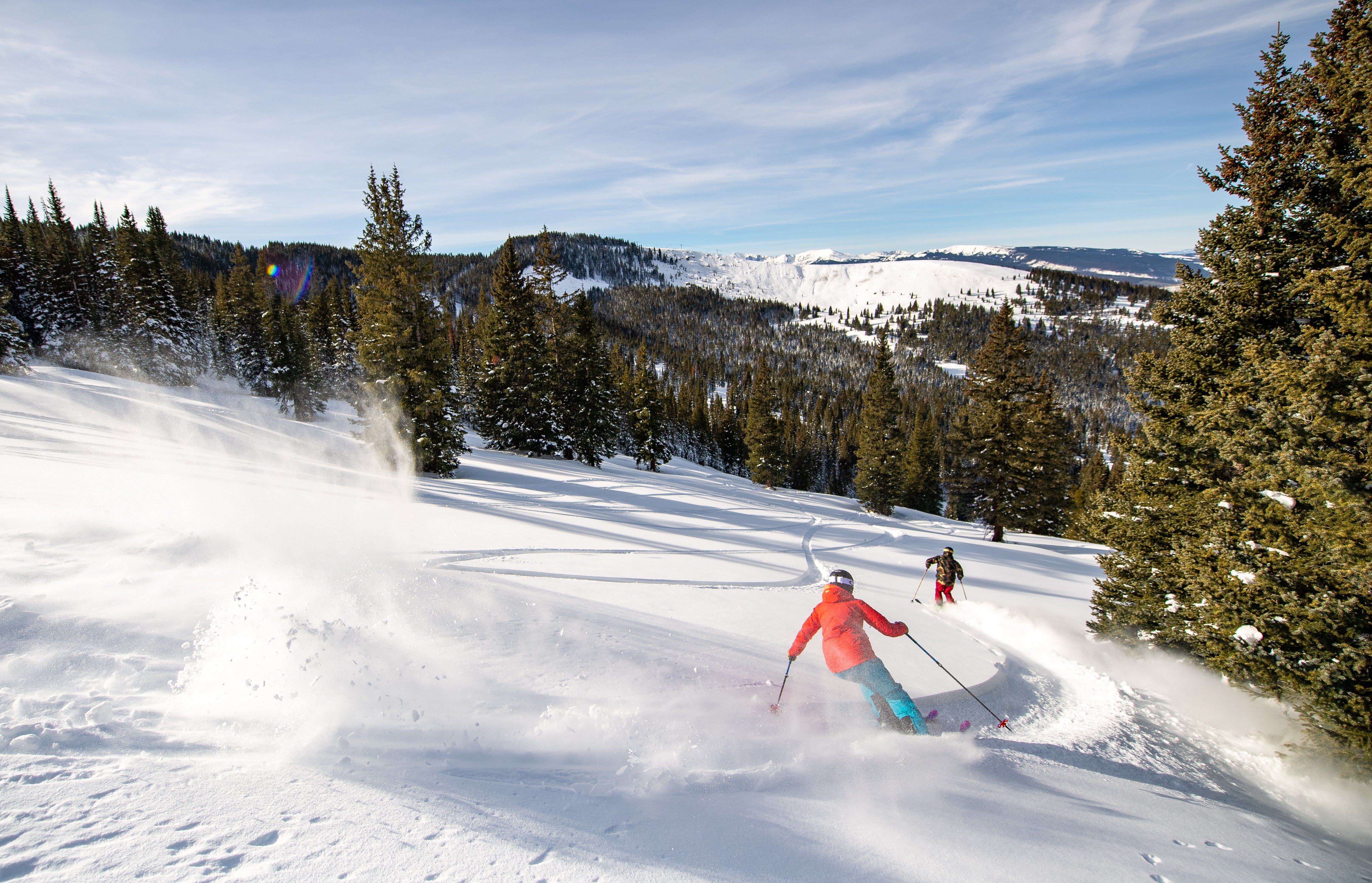 It is a snowy January and the conditions on Vail mountain are as good as it gets. Most of the mountain is open and there is a lot of terrain to choose from, so everybody is guaranteed to have a fun experience no matter their skills level. Check out our list of favorite ski runs for everybody from first time skiers to experts.
Ski lessons
If you have never tried skiing or snowboarding and want to have a great and encouraging experience, the best thing to do is to take a lesson. Learning from one of the attentive and skillful ski instructors from Vail ski and snowboard school is the safest and the most fun way to learn. There are plenty of options available from half-day group lessons to one-on-one private options.
You can also rent equipment through the ski school and save yourself the hassle of shopping for it around town. For the families vacationing with young children ski school is a must-do even if your kids are not beginners. There are a lot of lessons and skills camps available for kids and youth of all ability levels, and if you want to keep the family together they also offer family guided tours. See this website for more information.
If you have very young children who are not going to ski, Golden Peak offers a on site daycare. Small World Nursery is open to children 2 months old and up. It is in the same building as the Golden Peak ski school, which makes it very convenient for parents as skiing and non-skiing siblings can be together.
Favorite Green Runs
If you are planing to ski with friends who like the easy groomed runs but don't want to miss on the views, take them to the eastern part of the mountain around Sourdough Express lift # 14. A couple runs down Boomer or Tin Pants fowled by a delicious lunch at Two Elk restaurant or a craft cocktail with unbeatable views of the Gore Range will make for memorable day on the mountain.
One of the most favorite family green runs on the mountain is Lost Boy. It has a perfect pitch and length and it is also located at the western part of the mountain in Game Creek Bowl, which makes it the ideal place for a multi-generational, mid-day family rendezvous.
Favorite Blues
If you have spent a few days perfecting your skills on the green runs and are ready for something more exciting, head over for a leisurely cruise to the famous Blue Sky Basin. Before you pick your route check the daily grooming report to make sure you will have a smooth ride. There is a lot of difficulty terrain on that side of the mountain but Big Rock Park or Cloud 9 are the two easier options.
If you want to stick to the front of the mountain your options are endless. Some of the most fun intermediate runs are Whiskey Jack, Whippersnapper in the Golden Peak area, Christmas by Mountain Top Express chair lift, Lodgepole, Simba in the Lionshead area and Popi Fields in China Bowl.
The Black Diamonds
For everybody who feels confident in their skills, Vail has plenty to offer from the famous Pepi's Face run by Gondola One to Lovers' Leap in Blue Sky Basin. On a powdery day, when the snow is plentiful, any run in the Back Bowls is guaranteed to be memorable. Forever, near High Noon Express, seems to be the most popular, but Ptarmigan Ridge in Sun Down Bowl and The Slot in Sun Up are great. China Bowl is also everybody's favorite destination on a sunny morning after a big storm.
If it hasn't snow in a few days you can head towards Blue Sky Basin and enjoy some of the runs nested by the trees like Little Ole. If you are looking for the most iconic mogul run try your skills on Highline by Highline Express Lift # 10.