There is so much to do in the mountains during the summer months – spending time outdoors, patio seating at fine restaurants in the evenings, river activities from picnics by the stream to full on whitewater rafting sessions.
But what defines the perfect Colorado summer experience is enjoying live music surrounded by breathtaking views and the smell of wild flowers. Staying true to the Colorado music festival traditions, Beaver Creek will be the setting for several great events true the summer, which will give you new appreciation for the beauty of nature and art.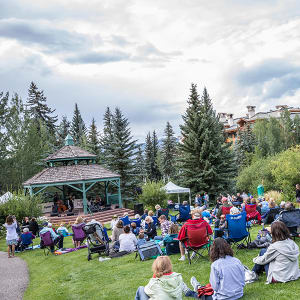 This Wednesday evening concert series starts on June 27 and spans to August 8, it takes place in the picturesque Creekside park nested in the heart of Beaver Creek, just steps away from the core of the village. The event is featuring a variety of genres such as soul, indie, folk and much more, besides the music there will be outdoors bar with food and drinks for purchase. The lineup for this summer is The Movement June 27, Joe Hertler & The Rainbow Seekers July 11, Rapid Grass July 18, Waker July 25, Steve Poltz August 1, and Roosevelt Collier August 8.
Starting June 29 come to the Plazza Pavilions in Beaver Creek to kick off the weekend in a classic Colorado style - with great live music, warm evening sunshine and a great family atmosphere. The FAC is taking place on Fridays from 4:30 to 7pm with lively music and outdoor bar and plenty of kid-friendly activities. The first Friday Afternoon Club of the summer opens with Beau Thomas, followed by Panda and people on July 6, Tiffany Christopher July 13, Ben Hammond July 20, Jonathan Moody July 27, John Statz August 3, Robby Peoples Duo August 10, Heart String Hunters August 17, closing the season with Love Pickles.
There is no better way to finish the day then enjoy a movie with your family on the mown. Lay out your blanket, bring a picnic basket and prepare for a great experience. The family friendly film schedule includes Field of Dreams July 3, Moana July 10, Cars 3 July 17, Incredibles July 24, Jumanji July 31 and Coco August 8.