It is no surprise that the Taste of Vail is everybody's most favorite spring event, after all delicious food and tasty wine is exactly what you need after a day of fun spring skiing. This year the festival is coming to town on April 4th and has a busy program all through April the 8th. Besides the annual signature events the Taste of Vail is offering a half a dozen of seminars exploring various topics related to wine and wine making around the globe. The exciting mixture of special guests from the food and wine world include name such as Friedrich Whilhelm Becker winemaker with Becker Family Wine, Cris Cherry owner of Villa Creek Cellars, Richard Grosche managing director with Reichstrat von Buhl, chief Sean Sinclair from the Sweet Basil, chief Marcus Stewart from Flame and many more. Whether you are interested in learning more about wine or just want to have some great tasting lamb make sure you check out the Taste of Vail schedule below and buy tickets or passes for the events that you want to attend.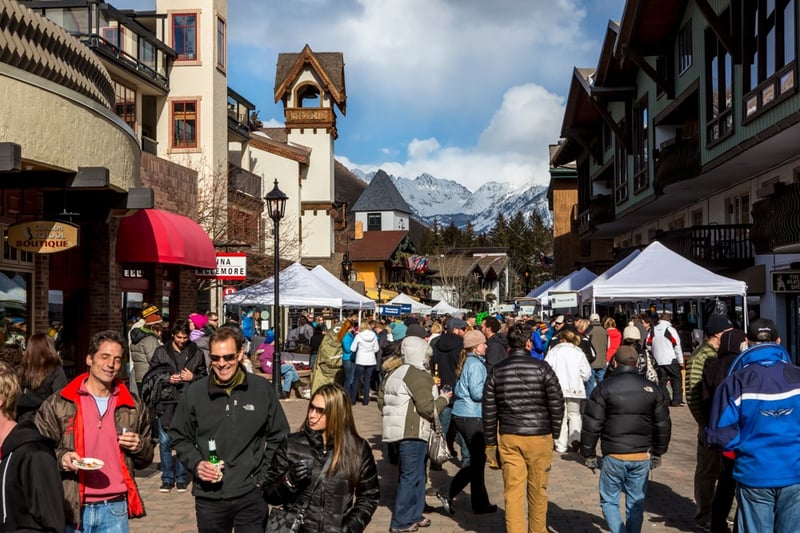 Wednesday, April 4
Debut of the Rosé 2017 3 pm - 6 pm, The Arrabelle at Vail Square
The opening event for the Taste of Vail 2018 gives you the opportunity to be among the first to try the just-released 2017 Rosé wines. The event will have over 100 varieties of the delicious pink wine to be tasted offering the greatest variety of flavors -- from semi-sweet, to off-dry, to bone-dry.
Thursday, April 5
Explore the new and the old of Oregon with Beaux Frere, Belle Pente, St. Innocent, Van Duzer 1:30 pm - 3 pm Matsuhisa Restaurant
A great and educational seminar that will give the attendees the opportunity to try some delicious wines: 2012 Estate Chardonnay, 2013 Belle Pente Vineyard Pinot Noir, 2014 Murto Vineyard Pinot Noir,2016 Bieze Vineyard, Eola Amity Hills Chardonnay, 2014 Van Duzer Estate, Homestead Block, 2015 Van Duzer Estate, Dijon Blocks Pinot Noir, 2015 Chardonnay Freedom Hill Vineyard, 2014 Pinot noir, Momtazi Vineyard, 2015 Pinot noir, Shea Vineyard, 2014 Beaux Freres Upper Terrace, 2014 Beaux Freres Zena Crown, 2014 Beaux Freres Chardonnay.
The American Lamb Cook-off and Après Ski Tasting 3 pm - 6pm Vail Village
Sample an array of lamb dishes, courtesy of the Vail Valley's finest chefs and the American Lamb Board. In the theme of "Life Beyond Chardonnay, Cabernet, and Merlot" Taste of Vail's participating wineries will be showcasing wines a wide array of varietals that include Reisling, Sauvignon Blanc, Pinot Noir, Shiraz, and Zinfandel.
Friday, April 6
Mountain Top Tasting 12 pm - 2:30 pm Top of Eagle Bahn Gondola.
don't miss the most recognizable event of the whole Taste of Vail weekend! Held at 10,350 feet above sea level, this event offers spectacular mountain vistas accompanied by gourmet food, beer, wine, and spirits.
Beaujolais - The Rise 3pm - 4pm The Sebastian Vail
After the mountain top picnic, join Lyle Railsback of Kermit Lynch Imports and Charlie Humphries for a seminar on Beaujolais.The seminar will explain the 'Cru System' and further evaluate the status of the region in the world of wine and how vintners approach to shed its questionable image of the past. Kermit Lynch has been regarded as the most successful importer of Beaujolais and among the producers tasted during this seminar will be the great wines of Domaine Thivin, Guy Breton, and the ever-popular Jean Foillard.
Tuscany with San Felice, Dievole and Brizio 4:30 pm - 6 pm
Ken Echols and Milko Miladinov will lead a tasting to explore the differences between Tuscany's famous regions of Chianti, Montalcino, and Bolgheri. They will talk about the resurgence of quality in Chianti, the continuous evolution of the popular Brunello di Montalcino and the status of Bolgheri in the world of wine. We will have MS Sean Razee guide you with these amazing wines.
Saturday, April 7
South Africa, Discover South African Sauvignon Blanc with Jacqueline Harris and Master Sommelier Brett Zimmerman 9 am - 10:30 Matsuhisa Restaurant
Taste of Vail has a full schedule of events on Saturday, starting in the morning with a talk and a discussion of South african wine. Often described as a stylistic bridge between New Zealand and Sancerre, does South African Sauvignon Blanc have what it takes to be the next white wine preference of the wine savvy and food-centric consumers of the USA?
The Rise of Pfalz Germany- Tasting of Riesling, Pinot Noir, and more and the influence of climate change on Viticulture in the region 11 am - 12:30 pm
The region once world famous for its noble sweet Rieslings has broadened its portfolio thanks to changing climatic conditions and is now home to some of Germany's finest dry Rieslings, Chardonnays and Pinot Noirs. Join winemakers Fritz Becker from winery Friedrich Becker in Schweigen and Richard Grosche from winery Reichsrat von Buhl in Deidesheim on a journey through Pfal.
Rhone Wines of Paso Robles - An Evolution of Wine and Appellation, Grenache, Mourvedre, Syrah and Beyond 1 pm - 2:30 pm Matsuhisa Restaurant
Join Associate winemaker from Halter Ranch, Molly Lonborg, Executive Winemaker and Vineyard Manager from Tablas Creek, Neil Collins, Owner and winemaker of Linne Calodo Matt Trevisan, Owner of Villa Creek and former Vail Valley Resident, Cris Cherry. The group will be exploring the Paso Robles AVA, (American Viticultural Area's). The wines they will include are Grenache, Mourvedre, Syrah and beyond.
The King varietals from Napa and Sonoma: Discover why these varietals remain the top selling wines in the world 3 pm - 4 pm
Sauvignon blanc, chardonnay, pinot noir and cabernet sauvignon has been the most popular varietals among domestic and international drinkers. With only miles separating their respective areas, Napa and Sonoma represent unique expressions of these popular varietals. Experience these 4 titans of the industry featuring wines from Gundlach Bundschu Winery, WALT, Vineyard 29, ZD Wine and HALL Wines. Proceeds donated to Redwood Credit Union's fire relief fund.
The Reserve Grand Tasting & Auction 6 pm - 9pm The Sebastian Vail
The culmination of Taste of Vail comes with the annual Grand Tasting - the event that combines all the wineries and the participating restaurants into one decadent culinary spectacle. The evening will include Taste of Vail's Auction and will be a Reserve Tasting, giving guests the opportunity to sample the best of the best!