The Town of Vail's Art in Public Places is pleased to announce the installation of a work of art by Paul Vexler. Commissioned for the Vail Village Welcome Center, the unique site-specific work is suspended from a vaulted ceiling above the central information desk. After reviewing over 40 proposals from a call to artists issued in May 2015, the Art in Public Places Board selected Vexler's work Red Eddy to enhance this highly visible civic building. The work is created primarily in Douglas fir and measures 48 x 48 x 216 inches.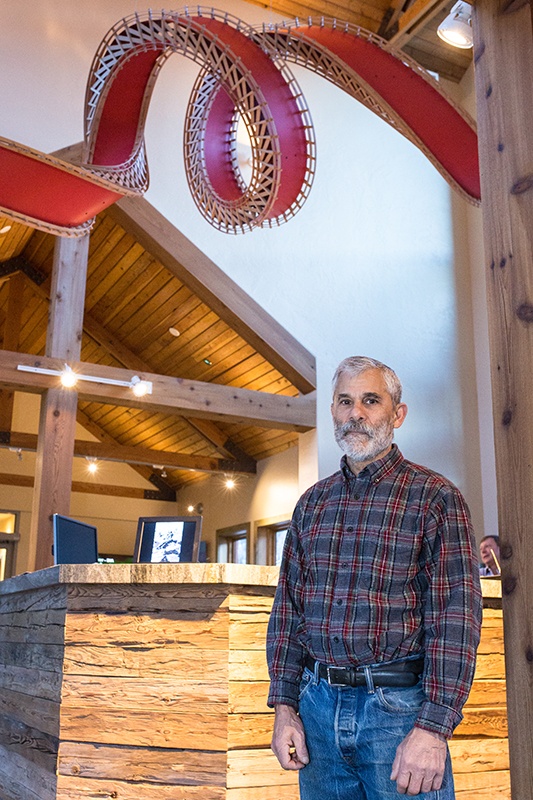 Paul Vexler, from Snohomish, Wash., worked for over 35 years as a carpenter designing and creating architectural quality doors and windows. As the co-founder and CEO of Quantum Windows and Doors in Everett, Wash., this experience taught him design integrity, accuracy, and efficiency during fabrication. Having received his BFA from Penn State University and a brief stint as a high school art teacher, he has always created sculptures. At this point in his life, he is now able to solely devote his time to creating art.
There are two very distinct, but interrelated aspects to sculptures, according to Vexler. "One is the material the object is made of and the other is the form the material is arranged. Both of these concepts are extremely important to me. I try to be honest about the use and properties of the materials I am using. I also try to push the materials as far as possible, so I can understand the boundaries of strength and flexibility. I try to understand what the materials want and don't want to do. I have found that my works are more successful when the materials are 'happy.'"
"With respect to form, I have always loved mathematics and especially geometry. I am usually using them to design and understand my work. I like to create shapes based on specific parameters. For example, a circle has a certain radius or a cube has a certain edge length. Complex shapes have more than one parameter. More often than not, when I make sculptures, I am playing with parameters. Some results are predictable, but there are also many surprises. I have come to realize that space and light are as important as the materials. I have known this for a long time, but I seem to relearn it, more intensely, over and over again," explains Vexler.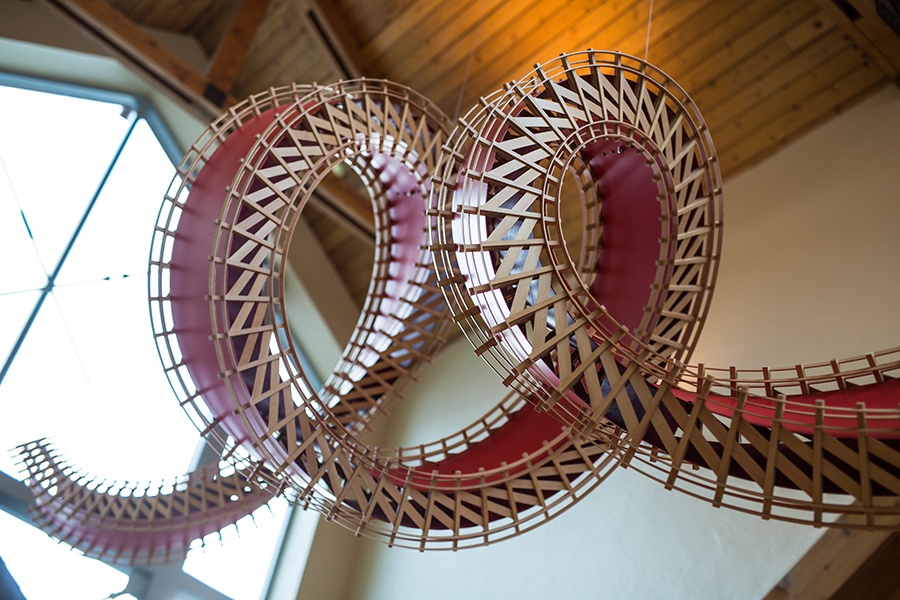 "The installation of Red Eddy enriches the Vail Village Welcome Center on many levels. Its dynamic form fills the space with its undulating shape. The vibrant color selected for the work creates a dramatic contrast to the natural materials while also being complementary," says Molly Eppard, Art in Public Places Coordinator.
Vexler explains his inspiration for Red Eddy: "I started thinking about eddies after reading a book called "Entropy." The idea of entropy comes from a principle of thermodynamics dealing with energy. It usually refers to the idea that everything in the universe eventually moves from order to disorder, and entropy is the measurement of that change. In some ways it is a bit depressing to think that everything that physically happens is part of a very slow march towards heat death. However, after discussing the book with a friend, he encouraged me to think about humanity, civilization and creativity as an eddy in this cosmic flow, where quite the opposite is happening," explains Vexler.
"About 18 months ago we paddled through the Grand Canyon on a rafting trip. It was one of the best vacations I have had. One of the highlights was the way the guides used the eddies to navigate the river. It was almost magical to be moving up stream when the rest of the entire river was going down. It is a good thought for maintaining one's optimism," continues the artist.
Paul Vexler has created installations for the Boise Art Museum, Boise, Idaho; Southeast Davisdon Public Library, Nashville, Tenn.; Beaverton City Hall, Beaverton, Ore.; Washington State University, Pullman, Wash.; Bellevue Arts Museum, Bellevue, Wash.; Everett Community College, Everett, Wash.; Swedish Hospital, Issaquah, Wash.; Indiana State University, Terre Haute, Ind.; SAS Corporation, Raleigh, N.C.; and Bionet Corporation, Taipei, Taiwan, to name a few.
The newly remodeled Vail Village Welcome Center, located on the top level of the Vail parking structure and above the Colorado Ski and Snowboard Museum, is major public amenity for the guests and residents of Vail. The space has a natural mountain aesthetic with mixed rustic wood finishes and clean lines. For many it is a first impression of Vail.