This year, the telecom industry's coolest networking event featured an enthusiastic group of Paralympians heading to Vail to help support the Adaptive Spirit Annual Event, which wrapped up today on Sunday, April 10th at the Vail Cascade Resort and Spa.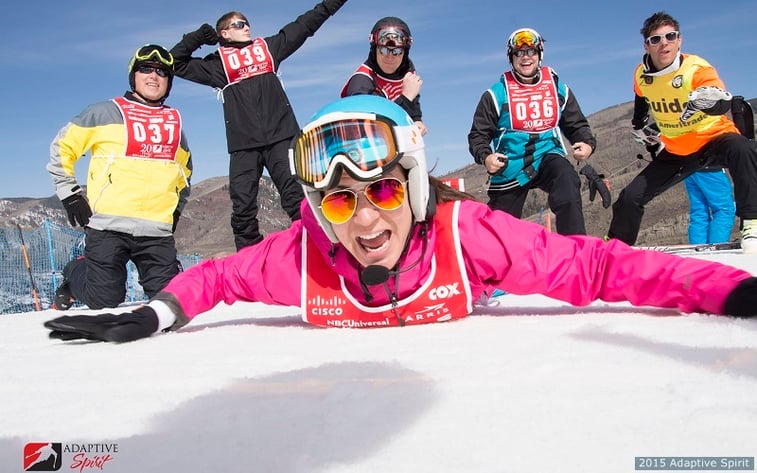 Adaptive Spirit is the largest individual fundraising event for the US Paralympic Alpine, Nordic, Snowboard and Biathlon teams, and is celebrating its twenty-first year in supporting these amazing athletes and sharing their inspiration with attendees of all ages.
Just a few of the athletes in attendance this year are undefeated, World Cup cross country winner Oksana Masters, (http://www.teamusa.org/para-nordic-skiing/athletes/Oksana-Masters), Paralympic Winter Games Bronze medalist, Danelle Umstead (http://www.teamusa.org/para-alpine-skiing/athletes/Danelle-Umstead), Winter Games Silver Medalist Mark Bathum (http://www.teamusa.org/para-alpine-skiing/athletes/Mark-Bathum) and Winter Games Silver medalist, snowboarder Mike Shea (http://www.teamusa.org/para-snowboarding/athletes/Mike-Shea ).
This year also featured a special keynote address by NCTA President and CEO, Michael Powell, who is the son of Colin Powell.
The event culminated yesterday afternoon when the Paralympians were paired with participating sponsor teams as they compete side-by-side in a downhill race at the Black Forest race area on Vail Mountain. A kid's race preceded the downhill event.
This year's event was the 21st annual. Last year, for the 20th anniversary of the Vail skiing and fundraising weekend, Caryn Maconi with Team USA wrote this article about the importance of the event:
Twenty years ago, a group of cable TV executives saved a financially-struggling U.S. Disabled Ski Team from extinction.
What's happened in the twenty years since is truly remarkable.
Steve Raymond, now the vice president of affiliate relations for DirecTV, was just a young college grad living in Vail, Colorado in the mid-1980s when his good friend, Bob Meserve, was paralyzed in a ski accident. Adaptive skiing changed Meserve's life, as he went on to make the U.S. Disabled Ski Team and compete at the Paralympic Winter Games.
Several years after retiring from skiing, Meserve learned that the team had lost a major sponsor. The program was in danger of dissolving – unless it somehow came up with enough funding to keep it alive.
Out of this dilemma, Raymond found an opportunity.
He and others in the cable industry had been looking for a worthwhile cause to support – something that could also double as a networking event. Raymond had seen firsthand the impact of adaptive skiing on his friend Meserve, and he wanted to ensure other athletes had that chance as well.
In 1995, the first Adaptive Spirit fundraising event was held.
Cable and telecom industry executives from across the Rocky Mountain region gathered in Vail to form business connections and share best practices – meanwhile raising money for the U.S. Disabled Ski Team. That first event raised about $100,000, effectively saving the team and launching a tradition that would continue for years to come.
The event gained momentum in 2011 when the U.S. Disabled Ski Team became the U.S. Paralympic Ski Team under the direct governance of the United States Olympic Committee. Now, it includes a ski race in which corporate attendees team up with Paralympians, a kid's race for children to meet and ski with athletes, and demos inviting anyone to hop in an alpine monoski or Nordic sit-ski and have a hands-on Paralympic experience.
"In the last five years since we've been partnering with U.S. Paralympics, it's been great for the team and for us," Raymond said. "They've been visible with our brand and present at the event, and their high performance directors talk about what a difference our support makes as they go out and try to win medals for their country."
Fast forward to April 2015 – Adaptive Spirit's 20th anniversary – and the event has accrued more than $11 million total for the U.S. Paralympic Ski Team. The 2015 event alone raised a record $1.6 million, up from $1.1 million the previous year.
The impact of Adaptive Spirit is not lost on the athletes. Because the USOC receives no government funding, private donor support is critical to Team USA's livelihood.
"We couldn't do what we do without this event," said snowboarder Heidi Jo Duce, who finished fifth in snowboard cross at the 2014 Paralympic Winter Games. "This is how we get our stipends for the year, and it's how we can afford to go to these international camps and competitions that cost multi-thousands of dollars. It's because of Adaptive Spirit that we can truly make that a reality."
This year, corporate attendees also had the opportunity to make a personal philanthropic gift to support the athletes they have come to know and love over the years. Two Adaptive Spirit volunteer board members launched the campaign, raising money for the new Adaptive Spirit Paralympic Endowment, by committing gifts of $20,000 annually over five years.
Managed by the U.S. Olympic and Paralympic Foundation, the endowment will create a steady source of funding now and well into the future of the U.S. Paralympic Ski and Snowboard program.
Marine Corps veteran and alpine skier Jon Lujan said he is impressed with the increase in resources available to the U.S. team since he joined it four years ago. In fact, since 2011, the team's annual budget has grown from $700,000 to $2.3 million.
"It's kind of an exciting time to be on board, just watching the movement grow," Lujan, who served as U.S. flag bearer at the Sochi 2014 Opening Ceremony, said. "And not just skiing, but all aspects of Paralympic sport."
Each year, the Adaptive Spirit event is a reflection of that growth. Last March, NBC broadcasted an unprecedented 52 hours of Paralympic Winter Games coverage from Sochi. Then in April, the children of corporate guests at Adaptive Spirit had the opportunity to ski with and try on the medals of athletes whom they had watched on TV just weeks before.
"Until people come and experience the closeness with the athletes that we enable through this event, they don't really understand the wonderful spirit of all of it," said Joe Rooney, chief marketing officer at Cox Communications and co-chair of Adaptive Spirit. "We've really tried to increase the opportunities for kids and families to have a wonderful time."