You're in for a treat, fans of Vail Mountain! If you've visited Vail in the past year or so, then you likely noticed that some construction was going on. Now, the construction is wrapping up, and two new ski lifts are about to be unveiled!

Photo from https://www.vail.com/blog/epic-lift-upgrade.aspx
Back in 2021, Vail Mountain announced that they were investing in two new ski lifts. Game Creek Express was redesigned to bring improved reliability and capacity to a popular bowl. The resort announced that the previous 4-person chair was going to be replaced with a new high-speed 6-person lift, increasing capacity by nearly 50%. They also announced the construction of Sun Down Lift in the Legendary Back Bowls. The new high-speed 4-person chair from the base of Chair 5 (High Noon Express) was designed to reduce wait times on peak days and make it more convenient to access the trails in Sun Down Bowl.
Now, the ski lifts are nearly complete! The resort recently posted that "concrete foundations are poured, lift towers have flown into place, and sheave assemblies were bolted onto the towers earlier this fall. This week, the last of our major lift components arrived to the top of the mountain near Wildwood Express (#3), where our teams will start the final preparations of our two new lifts."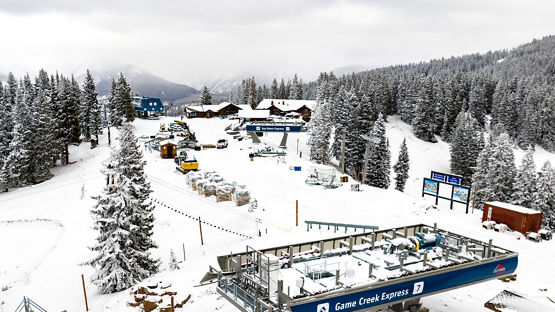 Photo from https://www.vail.com/blog/epic-lift-upgrade.aspx
According to officials from Vail Mountain, Game Creek Express and Sun Down Express chairlifts will open next month. The official opening date is yet to be determined, as it is dependent on natural snow fall amounts over the next few weeks. The ski resort is confident that they'll be running by the end of December, since Game Creek Bowl and Sun Down Bowl traditionally open in December, so those with ski trips planned later this winter will be able to take full advantage of the exciting new lifts!
The post from Vail Mountain also added: "We never hold terrain here at Vail Mountain. Once it's safe to ski and ride, we'll start opening terrain around our construction project. If Mother Nature goes bonkers and we keep getting more and more snow, we can open Sun Up and Sun Down Bowls with High Noon Express (#5) and Sun Up Express (#9), as well as China Bowl, Tea Cup Bowl, Blue Sky Basin and the rest of the gang. While we can't open Game Creek Bowl without Game Creek Express, we feel great about the new lift progress and hitting our traditional opening timeframe for Game Creek Bowl in early December."
These two new lifts are so exciting! We can't wait to use them!