With over 325 miles of terrain to explore, Vail should be on your list when it comes to mountain biking in Colorado. Whether you are a first timer or a seasoned rider, the resort has trails that are suitable for all abilities. Hop on any of the gondolas with your bike or if you are up for a serious challenge, use pedal power to get yourself up top. Once up top, any rider can spend days exploring all that Vail has to offer. Here is your complete guide on how to have a great mountain biking experience.
Equipment
So you are ready to get on the mountain and ride, now what? First you need a bike, and there are no shortages of places to get one. Vail Sports is the first shop that people usually see or hear about. With multiple locations around town and the valley, this is your most convenient spot to get all the gear you need. Depending on what types of trails you plan on riding will determine the bike setup you rent. For the serious downhill junkie, you will want a standard full suspension bike to tackle the trails. If you plan on cruising down some of the roads or are looking to pedal uphill then you may want a cross county trail bike. Talk to any employee hewn arriving and they will point you in the right direction.
For any rider, you can also gear your body up at any Vail Sports locations. Helmets and protective wear is available for rental and highly suggested. Sunglasses or goggles and a light pair of gloves should also be worn if you have them. Not all shops will rent these out but most places do sell them.
A standard pair of running or hiking shoes should do the trick. Dress appropriately with the idea that you may take a tumble. You will find most serious bikers wearing long sleeves to protect from the sun and a fall.
Ready to ride? Time to get on the Mountain
All riders, even if you already have a season pass, must obtain a bike haul ticket to get yourself and your bike up the mountain. These passes can be purchased at any ticket window and are good for either gondola for the day. Prices and length of passes vary so head on over to Vail's website to pick out the pass that fits you.
Gondola One and The Eagle Bahn both serve many miles of biking trails that are suitable for any rider ability. For first timers, it is not a bad idea to stick to some of the multi use trails or on-mountain roads to get used to riding on dirt. Village Trail and Gitalong Road are both good starting points. For the intermediate rider, Radio Flyer, Big Mamba and Fred's Lunch are great options. Those trails will be a mix of flats, bumps, and turns with little to no pedaling. And finally, for you adrenaline junkies, try Magic Forest to Old 9 Line or PMT. These trails are for experts only and you will encounter obstacles such as drops and ledges as well as rocks and roots on trail.
Take a look at the trail map before dropping in to see if the trail you are about to ride is freeride or multi use. Freeride trails are downhill only and on multi use trails you may encounter hikers or uphill riders, so please use caution.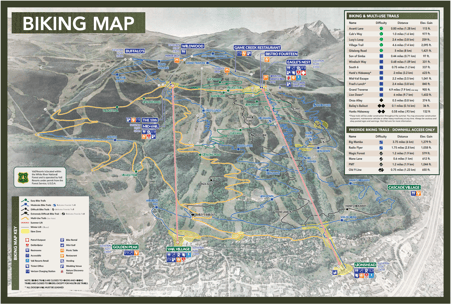 Both Gondolas will be spinning daily from 9:30am - 4:00 pm. As always when on the mountain, keep an eye out for approaching storms which can close the lifts down.
Have fun and be safe!