The Vail Recreation District's Mountain Bike Race Series will kick off its summer season of racing on Wednesday, May 25 featuring the Eagle Ranch Classic. During the race, riders will enjoy a variety of double and single track with distances ranging from 3.5 miles for younger riders to 12.6 miles for more experienced riders.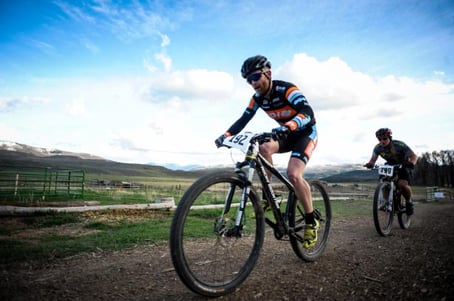 This is the first race of the seven-race series, which is presented by Athletic Club at the Westin, East West Destination Hospitality, Anthem Blue Cross and Blue Shield and The Dusty Boot. Individual race costs are $26 for preregistration or $37 on race day. Registration is available online and preregistration for individual races ends at 5 p.m. Tuesday. Day-of registration will end at 6:30 p.m. on Wednesday.

All races will start at the Arroyo Drive parking lot, just off of 4th of July Road in Eagle Ranch. Adults are encouraged to park near the after-party area and ride to the start as a warm up. If driving to the start, park on one side of 4th of July Road as directed by VRD staff. Arroyo Road will be closed to traffic from 4-8 p.m. The races will begin at 4:45 p.m. with the Larkburger Youth Series for riders ages 8 to 17. Youth racers will compete on the 3.5 mile traditional Eagle Ranch Classic Short Loop.

The race will include an after-party at The Dusty Boot in Eagle Ranch with a free keg of beer provided by New Belgium Brewery, as well as drink specials from 808 distillery for those 21 and over. Prizes also will be presented after the race to the top three finishers of each category, as well as a raffle prize drawing featuring products from race sponsors, area merchants and national companies. Mountain Pedaler, the official bike shop of the Eagle Ranch Classic, will be on-site to provide neutral support for racers with last-minute mechanical issues.

The Athletic Club at the Westin adult series will kickoff at 5:45 p.m. with details as follows:
Men's Sport 18 and Under and Men's Sport 19-34 will begin at 5:45 p.m., followed by Men's Sport 35-44 at 5:46 p.m., Men's Sport 45-49 at 5:47, Men's Sport 50+ and Clydesdales at 5:48 p.m., Women's Sport 18 & Under and Women's Sport 19-34 at 5:49 p.m. and Women's Sport 34-44 and Women's Sport 45+ at 5:50 p.m. These categories will race the short loop and climb back up the jeep road/Hardscrabble Connector to the Wall/Riddle Loop for a 10.7-mile course.
The Men's Beginner race will start at 5:51 p.m. followed by the Women's Beginner race at 5:52 p.m., which will include two short loops for a 7-mile course.
Men's Pro/Open and Men's Expert Under 35 will begin at 6:45 p.m., followed by Men's Expert 35-44 and Men's Single Speed at 6:46 p.m., Women's Pro/Open and Women's Expert Under 35 at 6:47 p.m., Men's Expert 45+ at 6:48 p.m. and Women's Expert 35-44, Women's Expert 45+ and Women's Single Speed at 6:49 p.m. These categories will start with the short loop, followed by a Bailey Loop ridden clockwise and finally a Wall/Riddle Loop with the Wall and Riddle single-track trails in a figure-eight formation for a 12.6-mile race.

The race series will continue June 8, featuring the Hammer in the Hay at 4 Eagle Ranch. The competition will then face-off in Vail for the grueling uphill Davos Dash on June 22 with the Berry Creek Bash following on July 6 in Edwards. The ever-expanding series will then take racers to the historic Camp Hale Hup course on July 20 before returning to Eagle for the Boneyard Brawl on August 3. The final race of the series will take place in Beaver Creek for the Beaver Creek Blast on August 24.