Lindsey Vonn has called Vail home since the age of 12, when she moved here from Minnesota with her family to get serious about ski racing.
Locals see her fishing the streams in the summer, hiking the mountain and walking her dogs Lucy, Leo and Bear.
Vonn won the gold in downhill at the 2010 Olympics and also took bronze in the super-G. She was injured for the 2014 Olympics, but is coming back strong for 2018.
Vonn started the season off slow, leaving many to wonder whether she was still as good as she once was. But she silenced the doubters in a major way in Val D'Isere, France, on December 16 when she won a super-G race for her 78th career win. Already the most winningest female racer in the history of the sport, Vonn has also set her sights on becoming the ski racer with the most World Cup wins male or female as she chases down Swedish sensation Ingemar Stenmark and his record of 86 wins.
Vonn is a speed skier, while Stenmark was a technical skier. The difference is in the events they compete in, Stenmark's wins all came from slalom and giant slalom races, while Vonn's come mostly from downhill and super-G races. Downhill and super-G happen at a faster speed with less gates, and only have one run, while slalom and giant slalom combine the times from two runs to determine a winner.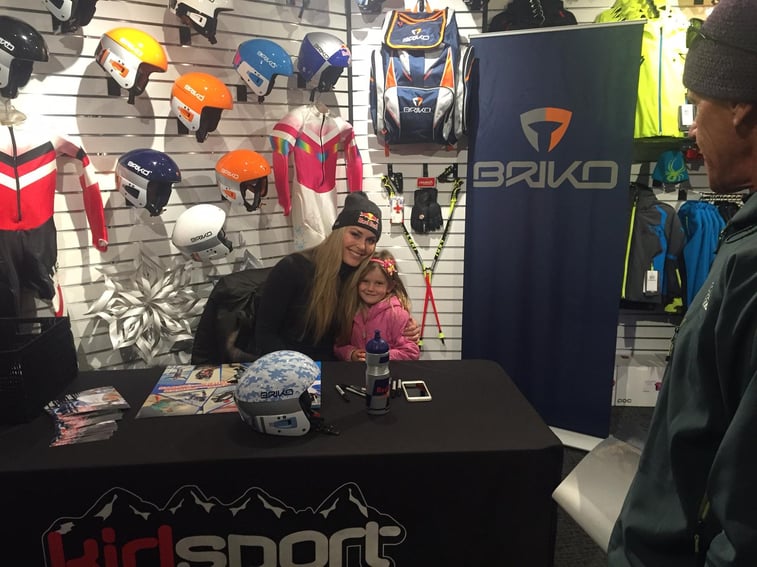 Olympic gold medalist Lindsey Vonn makes numerous public appearances around her home town of Vail
Vonn gives back to the Vail community through numerous events including her Ski Girls Rock program, a ski school for young girls designed to empower them in a way that Vonn always thought was harder to achieve in mixed-gender ski classes.
The Lindsey Vonn Foundation
aims to show young girls around the world that they can do anything they put their minds to.
"My foundation is dedicated to helping girls find the strength within them," Vonn said. "We do that by building a community of girls at camps around the country. We create a comfortable environment for growth and empowerment where these girls can discover the potential that exists in each and every one of them."
This season, Vonn invited fans to make a pledge to her foundation, where her fans can commit an amount of money to donate to Vonn's charity every time she's on the podium, including the Olympics.
At her best, Vonn landed on the podium 17 times in a single season. So far this season it has only happened once, but the Vail community is following her every race and hoping to see it happen again in February in Pyongchang.