Enjoy a free one hour public art tour of Vail on the first and third Wednesdays of the month starting January 4th and running through April 5, 2017. Meet at 3:30 p.m. at the Vail Village Information Center on the top level of the Vail Village parking structure. The tour winds its way through the Village with discussions of the history of the Vail Valley, the founding of Vail mountain, the master planning of the Village, and the importance of site-specific art. The town of Vail's public art collection includes over 47 works of art.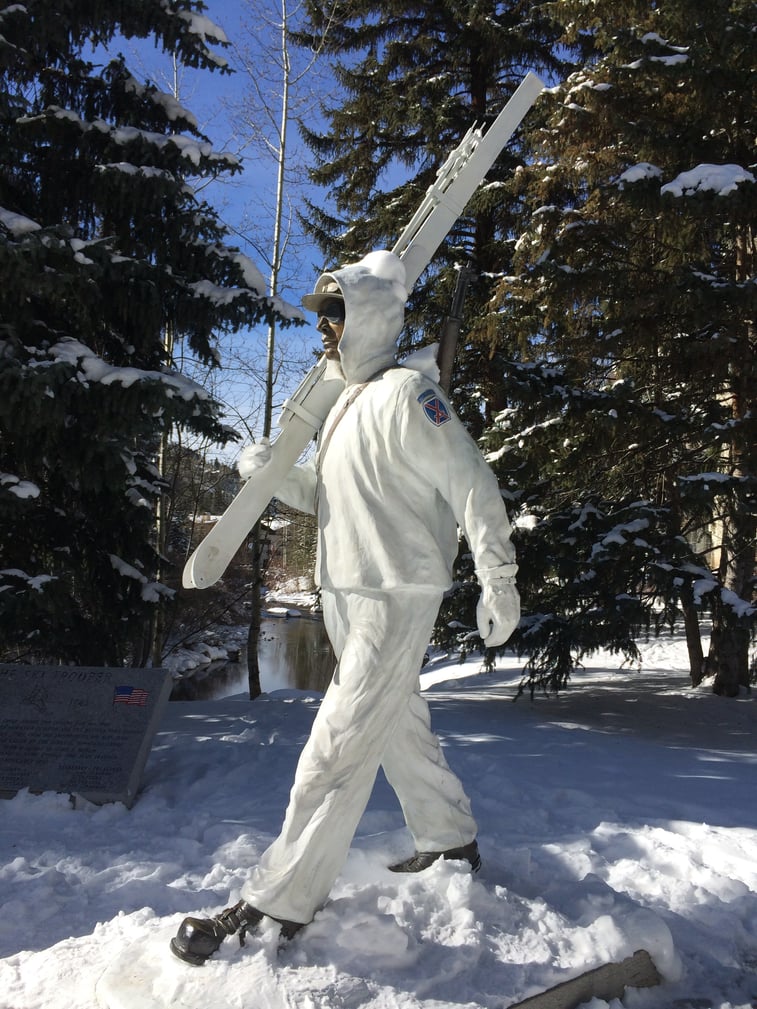 A larger than life statue of a ski trooper who served in the 10th Mountain Division of the U.S. Army in WWII in 1945 greets visitors as the enter and exit the Covered Bridge in Vail Village. Learn about this statue and more in the free Vail Art Walk on Wednesday afternoons.
A printed map of the Town of Vail's public art collection map is available at the Vail Village and Lionshead Welcome Centers. The map not only features 36 works of art in a walkable area of Vail Village and Lionshead, but it also includes the public art beyond town center to explore. Over 30 works of art in the Town of Vail's collection are created by Colorado artists. For a virtual tour of the collection visit www.artinvail.com on the new interactive collection map.
The tour also visits the Tenth Annual Vail Winterfest Ice Theater presented by Vicki & Kent Logan on the Gore Creek Promenade. The Vail Winterfest Ice Theater was conceived and introduced by Art in Public Places during the 2012-2013 winter season to celebrate Vail's 50th anniversary. Art in Public Places with ice sculptor Paul Wertin, will bring back the popular free and family friendly cinematic experience in ice. Lounge in oversized ice chairs while enjoying the scenic Gore Creek during the day and film projections on a screen created in ice in the evening. The Ice Theater will feature favorite holiday cartoon "How the Grinch Stole Christmas" (1966) at the opening celebration. Feel free to dress as your favorite Dr. Seuss character from this holiday classic. Projection begins daily at dusk until 10:00 p.m. and will be on view until the ice melts!