The holidays are behind us and the ski season is in its prime. January is an exciting time to visit the mountain not only because it usually offers the best snow conditions but also because of all the events happening in town. Both Vail and Beaver Creek have some fun events scheduled for the next couple weekends, so make sure to mark them on your calendar.

The third annual Skadi Vail Women's Ski and Snowboard Fest is scheduled for January 13-14. This is one of the most unique winter sports festivals — it is a celebration of women coming together to enjoy skiing and snowboarding and all that the mountain livestyle has to offer. Named after the Norse goddess of winter, Skadi Fest is designed by women, for women. Sponsored by Vail Mountain, Vail Resorts Retail and Outdoor Divas the ski and snowboard fest will feature customized on-mountain guided experiences with female instructors, a demo village of over 12 female-specific ski and snowboard equipment demo options, Yoga, evening event and much more. The festivities start at 5 p.m on Saturday at the welcome center in Lionshead with a mix and mingle event where participants will be treated to drinks, appetizers and raffle with proceeds going to the Vail Valley Charitable Fund. On Sunday the day will start with morning yoga from 8am to 9am; goddesses can stretch out and prepare for a day on the mountain. Demo Village opens at 8:30 with a great selection of women's- specific ski and snowboarding equipment. Next in the schedule is the main event of the Skadi Ski and Snowboarding Fest — the Guided Tour Experience. During this even, which takes place trough out the ski day starting at 8:30, participants will have the opportunity to tour the mountain and skip the lift line guided by female instructors. The instructors will talk about proper skiing and riding form, different snow conditions and proper equipment.

January 18 to 21 will be the Beaver Creek Culinary Weekend, a can't miss event for foodies. Set at the base of a World Cup mountain, Beaver Creek Winter Culinary Weekend presented by GMC offers a wide range of epicurean experiences – from intimate, luxurious culinary explorations to dynamic, high-alpine outdoor adventures. Mix and mingle with celebrity guest chefs, get to know the world-renowned Beaver Creek host chefs, sip on exquisite cocktails and wines, learn from distinguished winemakers and revel in endless hours of phenomenal skiing. Throughout four days, guests will create a customized menu of food, wine, spirit and mountain experiences featuring internationally-renowned guest chefs and celebrated host chefs, distinguished wine makers, interactive cooking demonstrations, dynamic après-ski events, hand-selected wines and expertly crafted cocktails. Year-after-year, Beaver Creek welcomes the finest culinary talent from across the world to collaborate with resident chefs on gourmet pairings and mountain adventure. Elevating the experience in 2018 are guest chefs Marco Canora, of New York, Jonathan Waxman, of New York, Alex Guarnaschelli, of New York, Jennifer Jasinski of Denver, Colorado, and Diego Isunza Kahlo of Mexico City.

Beaver Creek Winter Culinary Weekend Schedule

Mexico Meets the Mountains
Thursday January 18th 7:00 p.m. - 10:00 p.m.
Enjoy a tequila-paired dinner with dishes from Chef Diego Isunza Kahlo of Mexico City paired with hand-selected tequila from Herradura.
Price: $70 per person
Event Location: The Metropolitan

Beaver Creek First Tracks & Gourmet Breakfast
Friday January 19th 7:30 a.m. – 10:00 a.m.
Do you dream of being one of the first skiers on the mountain, enjoying perfectly groomed runs at sunrise? Beaver Creek First Tracks gives guests the opportunity to enjoy unmatched access, boarding the Centennial Express Lift an hour before the mountain opens to the public. After skiing flawlessly groomed runs, delight in a delectable breakfast on-mountain at the exclusive Allie's Cabin, prepared by Executive Chef Kirk Weems, including Moet Mimosas and Belvedere Bloody Maries .
Price: $150 per person (Please note: the price does NOT include a lift ticket or ski equipment.)
Event Location: Centennial Express Lift and Allie's Cabin

Guided Snowshoe Excursion & Lunch with Guest Chef Marco Canora
Friday January 19th 9:30 a.m. - 2:00 p.m.
Your morning will feature a guided snowshoe tour in one of Beaver Creek's most stunning, pristine settings—the secluded Beaver Creek Nordic Sports Center and McCoy Park, home to over 30 kilometers of beautiful trails. Enjoy lift access to reach McCoy Park, and arrive to trails that are peaceful and quiet. After snowshoeing through the stunning surroundings, relax at Grouse Mountain Grill and enjoy lunch prepared by Executive Chef David Gutowski and guest chef and James Beard Award winner Marco Canora as well as wines paired with each course from Peay Winery.
Guest Winemaker: Nick Peay of Peay Vineyards. Nick will showcase Chardonnay, Pinot Noir, and Syrah from his 51 acre hamlet at the edge the Sonoma Coast region in California. Nick is the steward of his estate and is involved in all steps from vine to glass. Create a memorable experience to dine and discuss wines with a true vigneron.
Price: $150 per person (Please note: all snowshoe equipment and foot passenger lift access provided with event ticket.)
Event Location: Beaver Creek Mountain and Grouse Mountain Grill

Après Village: Burgers & Beers
Friday, January 19th 3:00 p.m. – 6:00 p.m.
Enjoy live music from Brendan McKinney and a variety of delicious burgers and beers available for purchase throughout the Village. Colorado breweries including Vail Brewing Company, Bonfire Brewing, Roaring Fork Beer Company and Crooked Stave Artisans will provide complimentary beer tastings while supplies last.
Price: complimentary access with menu items available for purchase
Event Location: Beaver Creek Village

Wine Dinner with Guest Chef Jonathan Waxman
Friday January 19th 6:30 p.m. – 10:00 p.m.
In the elegant surroundings of the Chateau, join Splendido's Executive Chef Brian Ackerman and guest chef and James Beard Award winner Jonathan Waxman for a luxurious multi-course dinner with exquisite wine pairings from Huneeus Wines and Quintessa.
Guest Winemaker: Rebekah Wineburg of Quintessa winery and estate. Rebekah will give insight to multiple vintages of Quintessa's Cabernet based blends. She crafts these wines from grapes grown biodynamically in the heart of Napa Valley's Rutherford region. Wines from the sister winery Flowers will also be paired.
Price: $200 per person
Event Location: Splendido at the Chateau

Mules & Manhattans
Friday January 19th 8:00 p.m. – 11:00 p.m.
Tell the doorman the password for entry to the Speakeasy. Sip on hand-crafted cocktails from Woodford Reserve, nibble on inspired hors d'oeuvres and kick up your heels to a live swing band. This cocktail party will be the talk of the town.
Price: $60 per person
Event Location: 8100 Private Dining Room at the Park Hyatt Beaver Creek

Ski.Eat.Ski with Guest Chef Jennifer Jasinski
Saturday January 20th 9:30 a.m. – 2:00 p.m.
Join Beaver Creek's renowned ski and snowboard instructors for a morning of exploring intermediate and advanced trails on the mountain, and pick up some new technique tips along the way. After challenging yourself in the snow, warm up and relax at Zach's Cabin, perched on the mountain above Bachelor Gulch. Savor a gourmet lunch prepared by Denver-based guest chef and James Beard Award winner Jennifer Jasinski and Executive Chef Ron Jackson paired with unique wines from Scar of the Sea Winery to complete this elevated on-mountain experience.
Guest Winemaker/Cidermaker: Mikey Giugni from Scar of the Sea. Scar of the Sea is a small wine and cider project of less than 3,000 annual cases and only two employees. Mikey and his partner emphasize heirloom plantings of Pinot Noir, Chardonnay, and produce Ciders from early-century apple orchards along California's Central Coast.
Price: $150 per person (Please note: this event is limited to intermediate and advanced skiers and snowboarders only. The price does NOT include a lift ticket or ski equipment.)
Lunch Location: Zach's Cabin on Beaver Creek Mountain

Cooking Demonstration & Gourmet Lunch with Guest Chef Alex Guarnaschelli
Saturday January 20th 11:00 a.m. – 2:00 p.m.
At this exclusive cooking class, watch as guest chef and Food Network's Alex Guarnaschelli works culinary magic at Splendido at the Chateau's spectacular demonstration kitchen. This unique event culminates with a lively lunch where guests will feast on top-notch dishes paired with exquisite wines curated by Wilson Daniels importer.
Guest Sommelier and Certified Wine Educator: William Davis has an extensive experience in hospitality and the wine education. William will carefully pair and explain wines from Wilson Daniels highly selective portfolio.
Price: $150 per person
Event Location: Splendido at the Chateau

Après Village: Pizza & Prosecco
Saturday, January 20th 3:00 p.m. – 6:00 p.m.
Dine on pizza and sip prosecco and prosecco cocktails available for purchase throughout the Village as you listen to live music from the Tony Gulizia Trio and enjoy Beaver Creek's best shopping. Enjoy complimentary tastings of Bisol Prosecco while supplies last.
Price: complimentary access with menu items available for purchase
Event Location: Beaver Creek Village

My Perfect Pizza Kids' Cooking Class
Saturday, January 20th 4:00 p.m. – 5:00 p.m.
Kids can learn to toss pizza dough, knead it into the perfect shape and customize it with their choice of toppings. After the chefs at Blue Moose bake the pizzas, kids can return to enjoy it with their parents to enjoy their culinary creations.
Price: $20 per child (Children ages 4 and up)
Event Location: Blue Moose Pizza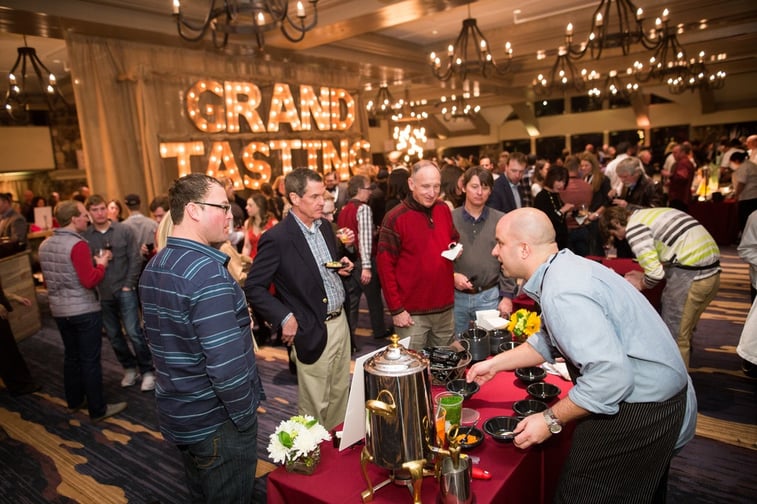 Grand Tasting
Saturday January 20th 7:00 p.m. – 10:00 p.m.
Savor outstanding bites, treats, and libations at the Grand Tasting, the event that showcases premiere chefs from Beaver Creek and guest chefs from throughout the country, including Marco Canora, Alex Guarnaschelli, Jennifer Jasinski, and Jonathan Waxman. Hand selected wines, spirits, and beers are paired perfectly with dishes from more than twenty Chefs and restaurants. All of the top talent from each event of Winter Culinary Weekend will be under one roof, dazzling guests with their best. Revel in the ultimate party of Winter Culinary Weekend while you eat, drink, and dance to live music.
Price: $175 per person
Event Location: Park Hyatt Beaver Creek Resort & Spa - Ford Hall

Sunset Snowshoe & Sunday Supper
Sunday, January 21st 3:30 p.m. – 9:00 p.m.
Beaver Creek's exclusive and luxurious on-mountain log cabin is open for a rare culinary treat. Enjoy gorgeous sunset views on your guided snowshoe excursion from Beaver Creek Village to Allie's Cabin. You'll be greeted by cozy slippers and a warm drink. Savor hand-selected wines from Schweiger Vineyards with a gourmet dinner prepared by Executive Chef Kirk Weems. Cap off your night with a sleigh ride back to Beaver Creek Village to conclude a memorable weekend.
Price: $200 per person
Event Location: Beaver Creek Mountain and Allie's Cabin

For tickets and complete details on the full lineup of events, visit www.beavercreek.com/culinary.

Guest Chefs:

Marco Canora: James Beard Award winner for Best Chef: New York City 2017, Marco Canora is the acclaimed chef behind the East Village's beloved Hearth and Zadie's Oyster Room. He is also the brains behind NYC's first bone broth window, Brodo, which has since expanded to a West Village brick-and-mortar location, a partnership with NYU Langone Medical Center and nationwide delivery. Marco's first cookbook, Salt To Taste was released in 2009. More recently, he published A Good Food Day, centered around healthy and wholesome eating, and Brodo: A Bone Broth Cookbook.

Alex Guarnaschelli: Alex Guarnaschelli is the executive chef at Butter Restaurant in midtown Manhattan, creating her own eclectic American and green market-inspired menu. In 2015, Chef Guarnaschelli opened Driftwood Room at Nautilus South Beach in Miami, Florida. Chef Guarnaschelli is a recurring judge on several Food Network prime-time series such as
Chopped, Cooks vs. Cons and Bakers vs. Fakers.

Jennifer Jasinski: Jennifer Jasinski became the first Denver chef to win The James Beard Foundation Best Chef Southwest award. In 2004, Jennifer Jasinski opened Rioja, a restaurant in Denver's Larimer Square with a contemporary design and Mediterranean menu influenced by local and seasonal Rocky Mountain ingredients. Jasinski has been named Chef of the Year, Best New Chef, Rising Star and more in Restaurant Hospitality, Nation's Restaurant News, The Denver Post, eater.com and 5280 Magazine and appeared on Top Chef Masters. Jasinski also co-owns Bistro Vendôme and Euclid Hall Bar and Kitchen, Stoic & Genuine, and Ultreia in Denver.

Diego Isunza Kahlo: Diego Isunza of Mexico City has been involved in cooking since the age of twelve, serving clients including Kylie Minogue, Michael Buble, Ziggy Marley and the Mexican Embassy in Peru. His career has taken place in some of the best kitchens in Mexico, such as Nicos Restaurant (#37 Latin America´s 50 Best), Pujol (#25 World´s 50 Best),
Morimoto and Azul Restaurantes.

Jonathan Waxman: A native Californian, Jonathan Waxman is chef and owner of Barbuto in Manhattan's West Village and Jams in 1 Hotel Central Park – described by the New York Times as 'a culinary comet'. He was named the 2016 James Beard Award winner for "Best Chef, New York City." Waxman was a judge on Bravo's Recipe for Deception and has appeared on two seasons of Top Chef Masters. He is the author of cookbooks, A Great American Cook and Italian, My Way.

Beaver Creek's exceptional local culinary talent will collaborate with guest chefs to create unique guest experiences, including local chefs David Gutowski, executive chef of Grouse Mountain Grill at The Pines Lodge, Kirk Weems, executive chef at Allie's Cabin, Brian Ackerman, executive chef and owner of Splendido at the Chateau, Ron Jackson, executive chef of Zach's Cabin, and Wade Eybel of 8100 Mountainside Bar & Grill. Each chef offers unique styles and expertise with years of experience.
Sponsors and partners include: GMC, the Bright Future Foundation, Breckenridge Brewery, Schweiger Vineyards, Huneeus Vineyards/Quintessa, Peay Winery, Scar of the Sea Winery, Bisol, Woodford Reserve, Caymus Vineyards, Duckhorn Winery, Somerston Estate, Premium Port, and more. .

A portion of ticket sales from Beaver Creek Winter Culinary Weekend is donated to the Bright Future Foundation, Eagle County's only community-based domestic violence and sexual assault agency, Bright Future serves clients with prevention, crisis intervention, advocacy, and long-term healing services.