Of the many American adaptations of the German Oktoberfest celebration, not many can claim they were started by a true Bavarian who still attends to this day. But that is the case in Vail, as our very own Helmut Fricker - who also started the now-enormous Denver Oktoberfest - attends Vail's celebrations every year, playing the accordion in his German polka band and even showing guests how to blow the alpenhorn.
Helmut grew up in the Black Forest region of Germany, and his touch no doubt led to
USA Today calling the relatively small Vail Oktoberfest one of the 10 greatest in the nation in 2010, as the world celebrated 200 years of Bavarian Prince Ludwig's annual party.
Today, the event is spread out across both Vail and Lionshead Villages, with Lionshead Village taking on the celebrations this weekend in the picturesque Arrabelle Square venue. Next weekend, Sept. 16-18, Gore Creek Drive will be transformed into Bavariapark with Fricker and company playing the big stage at Checkpoint Charlie.

COMPETITIONS THROUGHOUT
Vail can be a competitive place, whether it's jockeying for a position on the free bus for that 7:50am trip to the gondola on a powder day, or churning out World Cup athletes on the race course and in the park.
You wouldn't expect that competitive spirit to be unleashed during a celebration where beer and brats are the root of the party, but it's there, and it's dressed in a dirndl.
Stein lifting, keg bowling and brat eating competitions take place throughout both weekends, and there will also be costume contests where those who have on the best lederhosen or other authentic Bavarian garb will win.
You know the bratwurst eating contest is going to be official when Klement's comes in as a sponsor. The contest is simple - whomever can eat the most Klement's brats in 3 mins wins. The bragging rights, however, are complex. Who won last year? Were they defeated this year? What's the alltime record? Visit Vail Oktoberfest to find out. The contests are free to enter and winners will be supplied with a stein filled with tokens to use on food and beer at the event.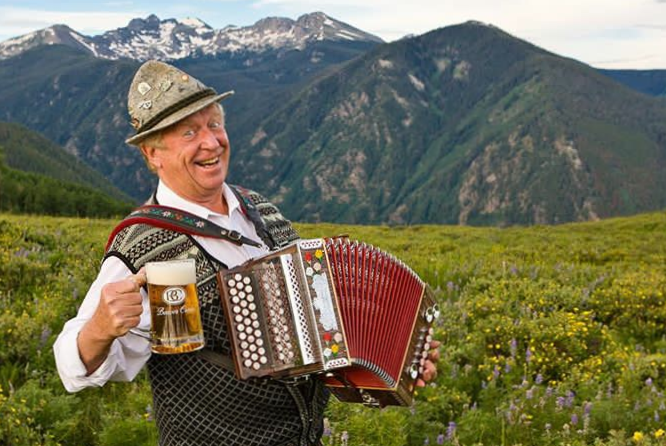 COMPLETE EVENT CALENDAR
Saturday, September 10, Lionshead
12PM Vail Oktoberfest opens to public
12-3PM Helmut Fricker and the Rhinelanders Band
12-5PM Kids Area with Entertainers open
1-3PM Denver Kickers Schuhplatters
2PM Bavarian Costume Contest
3-3:30PM Klement's Bratwurst Eating Contest
3:30-4PM Denver Kickers Schuhplatters band
4-5PM Adult Keg Bowling Contest
5-7PM Tanzkapelle band
7PM Vail Vitality Center Stein Lifting Competition
7:30-9:30PM Primal J and the Neanderthals band
10PM Vail Oktoberfest closes for the day
Sunday, September 11, Lionshead
12PM Vail Oktoberfest opens to public
12-3PM Helmut Fricker and the Rhinelanders Band
12-5PM Kids Area with Entertainer open
1-5PM Denver Kickers Schuhplatters
2:30-3PM Klement's Bratwurst Eating Contest
3-4PM Neue Polka
4-5PM Adult Keg Bowling Contest
5-6PM Neue Polka
5:30PM Vail Vitality Center Stein Lifting Competition
6PM Vail Oktoberfest closes for the day

Friday, September 16, Vail Village
12PM Vail Oktoberfest opens to public
12-4PM Tanzkapelle
4-6PM Helmut Fricker and the Rhinelanders Band
6PM Oktoberfest Opening Ceremony
6:15-7PM Helmut Fricker and the Rhinelanders Band
7PM Vail Vitality Center Stein Lifting Competition
7:30-9:30PM Down to Funk Band
10PM Oktoberfest closes for the day

Saturday, September 17, Vail Village
12PM Vail Oktoberfest opens to public
12-3PM Helmut Fricker and the Rhinelanders Band
12-5PM Kids Area with Entertainers open
1-3PM TEV Edelweiss Schuhplatters
2PM Bavarian Costume Contest
3-3:30PM Klement's Bratwurst Eating Contest
3:30-4PM TEV Edelweiss Schuhplatters
4-5PM Adult Keg Bowling Contest
5:30-7PM Bavarian Music
7PM Vail Vitality Center Stein Lifting Competition
7:30-9:30PM Robby Peoples and the Bank Walkers
10PM Vail Oktoberfest closes for the day
Sunday, September 18, Vail Village
12PM Vail Oktoberfest opens to public
12-3PM Helmut Fricker and the Rhinelanders Band
12-5PM Kids Area with Entertainer open
1-5PM TEV Edelweiss Schuhplatters
2:30-3PM Klement's Bratwurst Eating Contest
3-4PM Tanzkapelle
4-5PM Adult Keg Bowling Contest
5-6PM Tanzkapelle
5:30PM Vail Vitality Center Stein Lifting Competition
6PM Vail Oktoberfest closes for the day