It is only the beginning of August but we are already starting to think about the next ski season. (Assuming that some of us have actually stopped dreaming about fresh powder.) Even though it might be a bit too early to take your ski gear out of the closet just yet it is the right time for the mountain crews to be working on the lift improvements across various Vail Resorts properties. Here is a quick update of what to expect this winter season on both Beaver Creek and Vail Mountain.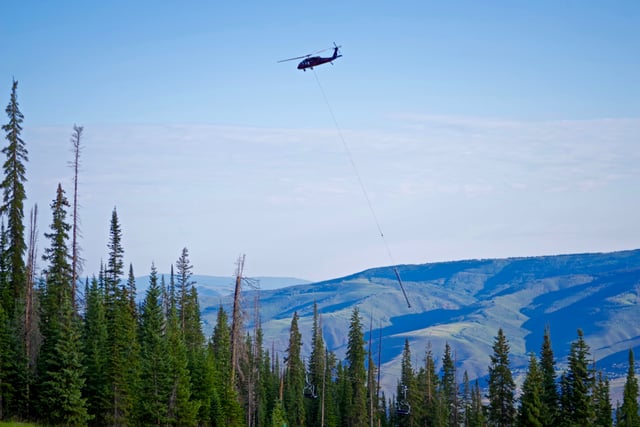 Jon Resnick photo of Beaver Creek Red Buffalo Express being installed
In mid-July a Black Hawk helicopter began removing lift towers from the Drink of Water Lift (#5) at the top of Beaver Creek Mountain installing new lift towers for the high-speed quad, Red Buffalo Express Lift (#5). Beaver Creek Resort is upgrading Drink of Water Lift (#5) from a two-person fixed grip to a new high-speed quad to debut as Red Buffalo Express (#5) during the 2017-2018 winter season. The new Red Buffalo Express will be named after the signature, beginner Red Buffalo trail, which provides incredible views of the Gore Range and is named after two signature peaks of the Gore Range, the Red peak and Buffalo peak. The new lift will reduce ride time by 50 percent, from 8.6 minutes to 4.3 minutes, and will increase uphill capacity by 75 percent. With the upgrade, all primary lifts on Beaver Creek will be high-speed.
Unlike most beginner learning areas, Beaver Creek's beginner terrain, is located at 11,440 feet, the highest point of the mountain. Guests can ride the new Red Buffalo Express Lift (#5), located at the heart of the beginner area, for quick access to all 11 trails and two terrain parks. The trails provide mellow, cruisy terrain fitting for beginner and intermediate skiers and riders, plus breathtaking panoramic views of the Gore Range.
On Vail Mountain
Vail Resorts reported on August 2 through a website update that the work on the new improved Northwoods Express (Chair #11) is on schedule. The new high speed six person chairlift will reduce wait times and increase capacity by 25 percent and will improve the flow of skiers and snowboarders to the legendary Back Bowls and Blue Sky Basin throughout the day, including end of day, creating a better flow of traffic exiting Blue Sky Basin and moving across the mountain. The current lift – a Doppelmayr detachable-quad– was installed in 1985, along with a group of lifts including, the original Vista Bahn Express (#16), Mountain Top Express (#4) and the current Game Creek Express (#7).
Leitner Poma, which is headquartered in Grand Junction, CO, designed and is building the new NorthWoods Express lift. Some of the terminal pieces are already done and on their way from the factory to top and bottom locations.