The 2015 Birds of Prey World Cup begins with training runs today in Beaver Creek, attracting guests from around the globe to North America's Downhill. But as you're watching the best in the world in their only World Cup stop in the U.S., many may wonder, how did the Birds of Prey course gets its name? The following is an excerpt from Nathaniel Vinton's excellent book "The Fall Line, How American Ski Racers Conquered A Sport On The Edge." Vinton is an investigative journalist for the New York Daily News and has established himself as the premier journalist in the U.S. covering ski racing today. This passage is from chapter 15, "Almost Famous."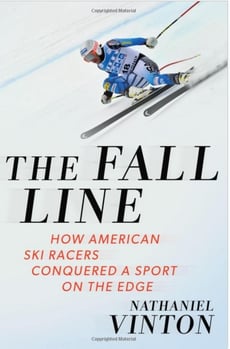 Going east on Interstate 70 toward Vail, there is a place where
if a motorist driving through during the first week of December happens to glance over at the right second, he might pick out a dark object in freefall against a white backdrop. This is the upper section of the Birds of Prey downhill course at Beaver Creek, Colorado
–
a plunge known as headwall, a geological term for the most imposing cliff faces.
Renowned course designer Bernhard Russi built the course for the 1999 world championships, slashing a new trail through a forested flank of the ultramodern resort. Russi used the steepest mountainside available, creating a downhill that only the world's very best skiers could handle. Though he called the course his masterpiece, he consistently credited the Almighty for providing such dramatic terrain.


Beginning 11,427 feet above sea level, the course opens with an easy 30-second traverse, where the racers tuck over gentle rolls and build up their speed while the announcers introduce them to viewers. Then the racers plunge off the edge of the world, crossing over a dropoff called the Brink and into the Talon Turn, the first big challenge of the Headwall, one of the most harrowing descents on the World Cup.


Below the Brink is a 45-degree pitch, warped by ledges and declivities that rush up to meet the racers at 70-80 miles per hour. In less than a minute and a half, racers drop more than 2,400 feet in elevation. The Vail Valley Foundation, which organizes the event, maintains more than seven miles of safety netting, and the 17,000-pound snowcats course workers use to till the surface into hardness have to be lowered by powerful cable winches lest they roll into the woods.


There are a few flat spots, but they terminate in sharp dropoff jumps. The jumps have names like Harrier, Peregrine, Screech Owl, Golden Eagle, and Red Tail. The raptor motif fits perfectly; the racers look like hawks folding their wings up and diving for prey down Russi's course. It is a purposeful freefall; you wouldn't do it unless you are hungry for something.