Vail's biggest event – the GoPro Mountain Games – are coming to town next week to celebrate the beginning of summer in the mountains. It's the most anticipated event of the summer, bringing 100,000 people or more to town, and it's almost here.
The schedule is packed full with fun events for both spectators and athletes. To help you navigate through the busy and super fun weekend we have put together a list of venues and some planning advice.
Everybody is invited to the GoPro Mountain Games – whether your sport of choice is kayaking or happy-hour beer drinking, you are guaranteed to have fun during the games.
But it is important to understand that Vail gets really busy during this weekend, and in a reverse of the Americannorm, having a car actually makes things less convenient. If you are arriving by car you can just set it and forget it in one of the overflow parking spots around the village and take a free shuttle to the action.
If you have a particular restaurant that you will like to dine at, make a reservation ahead of time.
Dogs are welcome, in fact there are almost as much fun things for them to do and places to hang out as there are for their human companions.
The games are a family friendly event, so take the kids with and prepare for mountain style family bonding time. Some fun events you might want to sign them in for are the Kids Free Bike Race Besides, Lycored Blindfold Bootcamp and of course everybody's favorite, the Mountain Mud Run.
Besides the many kids and family competitive activities, the GoPro Mountain Games has a special area with free activities for children located at Golden Peak – Adventure Village. Some of the fun things your kids will be able to partake in at Adventure Village include learn-to-kayak "sit-on-top" style in a giant kayak tank, try slack-lining, climb and much more.
It's a good idea to know in advance where each event is held, so you can find your way through the crowds in the most efficient way.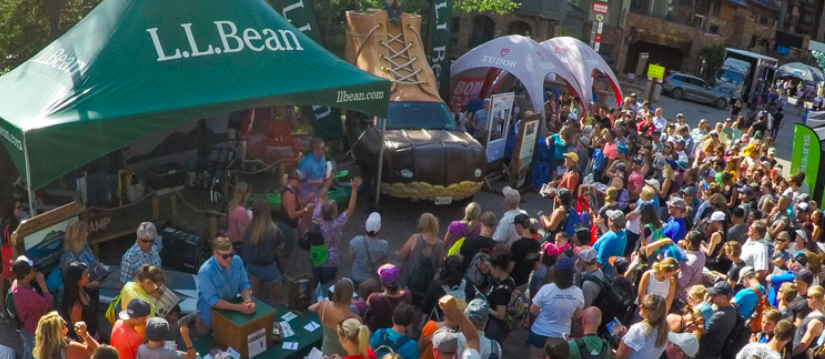 L.L.Bean's Gear Town is the first thing you will notice as you c
ome to Vail Village during the Games weekend. It spreads along Meadow Dr. and up towards International bridge and gives you the opportunity to demo gear, sample products and shop the largest collection of outdoor brands to ever come to Vail.
Nature Valley's Adventure Village has a new home this year, it is located at Golden Peak and as usual features all sorts of fun and games for kids of all ages.
Dog Town is located in Lionshead Village this year and it will be even more fun than before with the addition of a second DockDogs pool. For the most beloved spectator events, go to the Dog Town in Lionshead.
Mountain Plaza, located by the base of Gondola One, has a full events schedule during the GoPro Mountain Games. It hosts the IFSC Climbing Wall, the EverBank VIP Lounge, The GoPro Outdoor Reels Film screenings, and the start/finish line for many on-mountain events.
Kleen Kanteen's Zen Zone is locat
ed in the beautiful Ford Park, nested between the betty Ford Alpine Gardens and the roaring Gore Creek. The Zen Zone welcomes all levels yoga enthusiasts, and promises a variety of events with a great selection of instructors showcasing different styles and philosophy. Here is the full line up:
https://mountaingames.com/venues/zen-zone/
Hungry or thirsty? Find beer gardens and food trucks along the way.
The Pacifico Food & Beer Garden is the place to go when hunger hits. This food oasis stretches along Gore Creek from Check Point Charlie all the way to Bridge Street, featuring food from locals favorites like Rocky Mountain Taco and Crespelle and multiple bars serving beverages from Pacifico, Tito's and WoodBridge Wine and non alcoholic drinks provided by High Brew Coffee and Bang Energy. This is where the Pickin n Pints Happy Hour and live music is going to be as well.
https://mountaingames.com/events/pickin-n-pints-happy-hour/
Gerald R. Ford Amphitheater is the GoPro Mountain Games music venue. Concerts start on Thursday and feature a variety of great bands held in one of the most beautiful natural amphitheater in Colorado. Here is the full concert schedule:
https://mountaingames.com/venues/the-amp/