If you haven't been to Game Creek Bowl on Vail Mountain yet this summer, you have to check it out. The west-facing ski area is popular in the winter for its runs Lost Boy and Dealer's Choice, which offer stunning views of the Eagle River Valley. But this summer the Game Creek Bowl area of Vail Mountain has been activated especially well as the resort has added a zipline adventure through the bowl, and started offering open air chairlift rides on the Game Creek Express as part of the new Epic Discovery experience.
Vail Mountain's new zipline canopy tour through Game Creek Bowl – On the Hill 6.28.16 from On the Hill on Vimeo.
One gem Game Creek Bowl has boasted for years is the incredible, 5-star restaurant nestled in the bowl near the Ouzo run. In the winter you're transported there by snowcat, in the summer it's an on-mountain operations vehicle which takes you over Jeep roads to the European style chalet. Once inside, both the views - and the food - are amazing.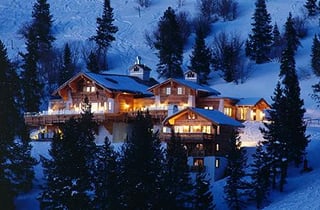 Steve Topple, Executive Chef at Game Creek Club and Restaurant, has been selected to represent the Vail and Game Creek Restaurant in New York this October as the feature chef at the James Beard House. Chef Topple's custom menu for the evening will feature local Colorado items, such as a Smoked Colorado Trout Corn Fritter with Chive Cream Sauce, Colorado Lamb Tartare with Quail Egg and Lemon Caper Chutney, and Rocky Mountain Elk Tenderloin with Foie Gras Potato Puree, Smoked Morel Mushrooms and Huckleberry Sauce.
"Having Chef Topple represent Game Creek and Vail Mountain at the James Beard House showcases the fine dining Vail has to offer year-round," said Mike Friery, Vail Mountain Senior Director of Food & Beverage. "Chef Topple will take the unique on-mountain culinary experience Game Creek Restaurant offers and delight the guests at the James Beard House."
Chef Topple has worked at several resorts around the country. This marks his third dinner at the James Beard House and is a reflection of the culinary excellency of Vail Mountain and its on-mountain fine dining establishments.
"It is an honor to travel to the James Beard House for my third dinner and introduce guests to the local Colorado flavor I serve each night at Game Creek," said Chef Topple.