Trying to go first chair to last call at Vail? It's a great place to do it.
Bridge Street is the town's main drag at night. Along it you'll find small places like Loaded Joe's, which serves drinks at night and doubles as a breakfast place in the mornings, and across from that is Samana, which has gone by many different names over the years. But all the places on Bridge Street are fun to hit in a night; start with The George and check out their throwback style with a wall of old Rolling Stone covers. A popular quiz game is "from what year is this cover" as the years are revealed in fine print on the bottom. Don't miss Vendetta's, the Vail Underground, the Blu Cow and next to it, the legendary Shakedown Bar, where you can usually find live music most nights. Blu Cow and Vendetta's serve pizza and sausages until the late night hours. And then there's the Red Lion. When the popular UK newspaper The Telegraph visited Vail in 2011, they wrote, correctly, of the Red Lion: "Young men should be aware that it's fondly referred to as 'cougar HQ' in honour of the glamorous women who frequent it."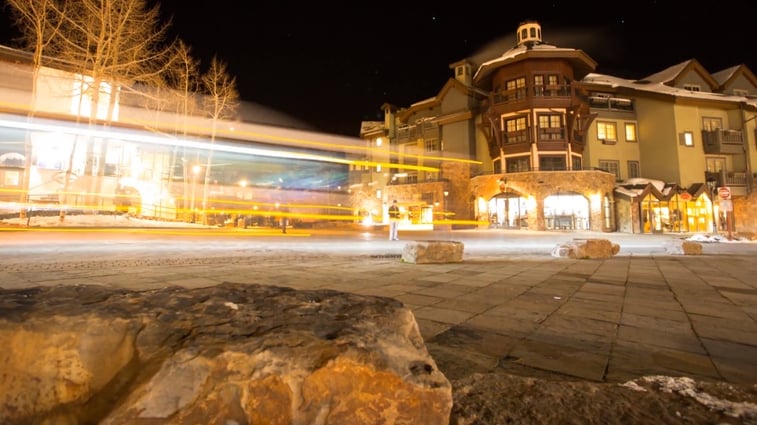 Recently, the Solaris complex has become a popular nightlife nexus in Vail due to several new places, including Bol, a bar and bowling alley, and Cinebistro, a bar and movie theater. They're both very modern places with great drinks and a futuristic vibe. Upstairs in the Solaris' second level, the restaurant Matsuhisa has also become a popular nighttime destination for their delicious sushi, mountain views, exotic menu and traditional saki and Japanese beer.
Vail's other major village, known as Lionshead, isn't known for its nightlife as much, although it does have one really popular apres ski bar in Garfinkles. If you're looking for a good local's pub, check out Bart and Yeti's in Lionshead. And if you're on your way over to Lionshead from Vail Village, make sure and stop at the Altitude Club, located in the Evergreen Lodge between Vail and Lionshead villages.
Some of the best nightlife in Vail happens when there is one of the many free concerts underway in town. Events often bring big concerts to town, so check out the lineup at events like the Burton US Open, Snow Daze, Spring Back to Vail, the GoPro Mountain Games, Hot Summer Nights, Underground Sound, Street Beats, Oktoberfest and more. Following those concerts, the nightlife spills into the streets and the fun really begins. Ordinary hotel bars become gathering grounds. The transportation center itself serves drinks and the free bus system gets people around safely.
But, if the free bus system isn't customized enough for your party needs, consider the party kings of Vail, the Turtle Bus. This moving bar will take you all over the valley, to the infamous "Green Mile" concentration of marijuana shops, over to the Beaver Creek and Avon's network of bars, which is plentiful, and back to Vail again. And if you're in the mood for more fun, you can hit them up the following afternoon for a float down the Colorado River.