The final free public art tour of Vail for the winter season will be held on Wednesday, April 4 from 3:30 p.m. to 4:30 p.m.
The tour is hosted by the town of Vail's Art in Public Places coordinator, Molly Eppard, who will take you through the Village with discussions of the founding of Vail mountain, the master planning of the Village, and the importance of site-specific art.
The town of Vail's public art collection includes over 47 works of art and many are unique examples of old world techniques that you will not see in other areas of the country.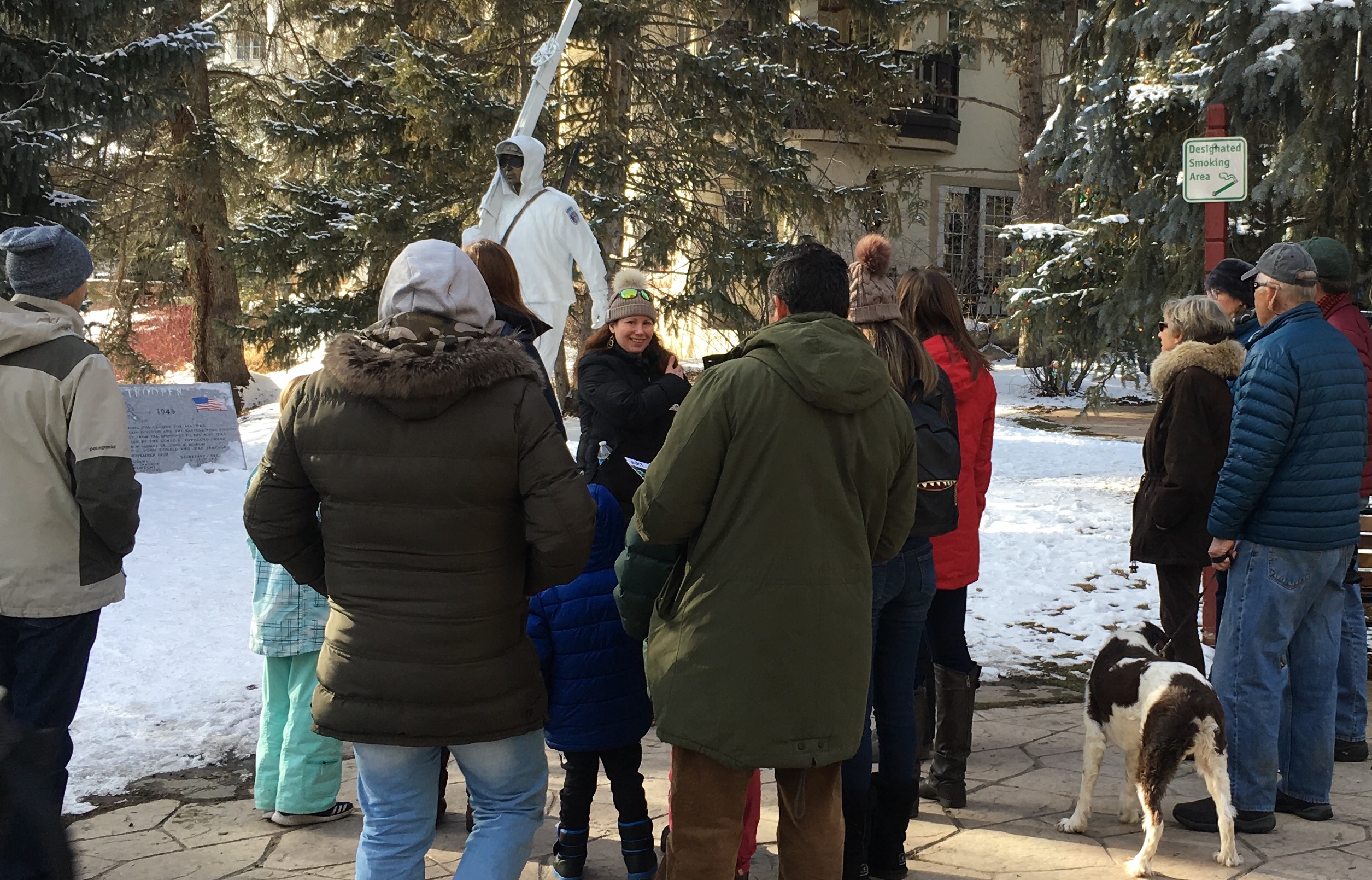 Vail Art in Public Places coordinator Molly Eppard taking guests on a free public art tour
Eppard's talk nicely weaves in details about the history of the Vail Valley, starting with one of the first pieces many visitors notices upon entering Vail Village, the statue of the 10th Mountain Division soldier in Slifer Square.
Eppard will also tell you the story of husband and wife duo Horst Essl and Jean Richmond, whose work has adorned buildings throughout Vail for many years including Pepi's Hotel-Gasthof Gramshammer, the Tyrolean Inn and Village Center.
Eppard will tell you about Essl, a trained artist from his native Austria, introducing the art of sgraffito to Vail in the 1970s. Sgraffito, meaning "scratched" in Italian, is an artistic technique used to enhance the facades of buildings. It was introduced in Germany during the 16th century by Renaissance artisans as a process for embellishing decorative motifs, designs and moldings on buildings. It became very popular in areas of Bavaria, Northern Italy and Austria.
Thanks to Essl, Vail is one of the only places you can find true sgraffito in the U.S. It's not used much any more because it's so laborious – by applying layer upon layer of lime stucco sgraffito requires the artist to work continuously while the stucco is still wet, literally working around-the-clock. Entirely carved by hand, different colored plasters are used to create the depth and dimension in the work which is revealed once the stucco is incised.
The final chance to join Eppard on the free tour is Wednesday, but if you miss it, make sure and tune in this summer when she will likely start up a summer version of the tour once again.