The town of Vail is divided into two main sections: Lionshead and Vail Village. These are pretty much pedestrian-only plazas that offer dozens of shops, lodgings, and restaurants to suit every budget and every taste.

So if you're in the mood for a great dessert, just where should you go?

It all depends on your palate, of course. If you go to a Mexican restaurant, the dessert you'll find on offer will be deep fried ice cream, sopapillas, flan or churros. At a Japanese restaurant, you'll be offered fruit plates or fruit flavored shaved ice. An eatery offering American cuisine will have chocolate cake or brownies.

The best way to enjoy a dessert is, of course, to have it before your main meal, to ensure you'll have room for all that delectable goodness. Better still is to make a "dessert crawl," visiting one restaurant after another to try a dessert on their menu.

(Note that the restaurants and shops are in a Pedestrian only location – so don't try to drive to the addresses given using your GPS!)

Sweet Basil, located at 193 E. Gore Creek Drive, serves gourmet entrees for lunch or dinner such as Miso Glazed Black Cod, Spiced Honey Glazed Chicken and Colorado Lam T-Bones, but their desserts, created by pastry chef Amanda Andrews, are something special. Their Blackberry and Hazelnut Pavlova is nothing short of delicious, as Is their Hot Sticky Toffee Pudding Cake.

For a fantastic flan in Vail, try El Sabor Mexican restaurant, at 660 Lionshead Place. They serve authentic Mexican food such as tacos, rellenos, enchiladas and burritos, of course. As for their desserts, their churros, thick with cinnamon sugar and topped with chocolate sauce you can apply as thinly or as thickly as you desire, are very tempting. But their flan, a custard drenched with caramel and whipped cream, nestled in a delectable flour tortilla, is highly recommended.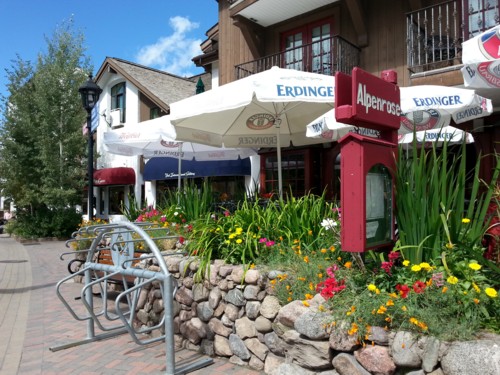 Then there is Alpenrose, famed for its German and Austrian cuisine. But it also houses a Belgian Patisserrie (that's French for pastry shop) and Bakery. This restaurant is located at 100 E. Meadow Drive. If you love your pastry, you'll want to visit Alpenrose.