On Wednesday, July 4th, Independence Day will kick off in Vail at 8 a.m. with a Pancake Breakfast at the Vail Interfaith Chapel Open, all are welcome to join as the event is open to the public. An Interfaith Worship Service will follow at 9 a.m.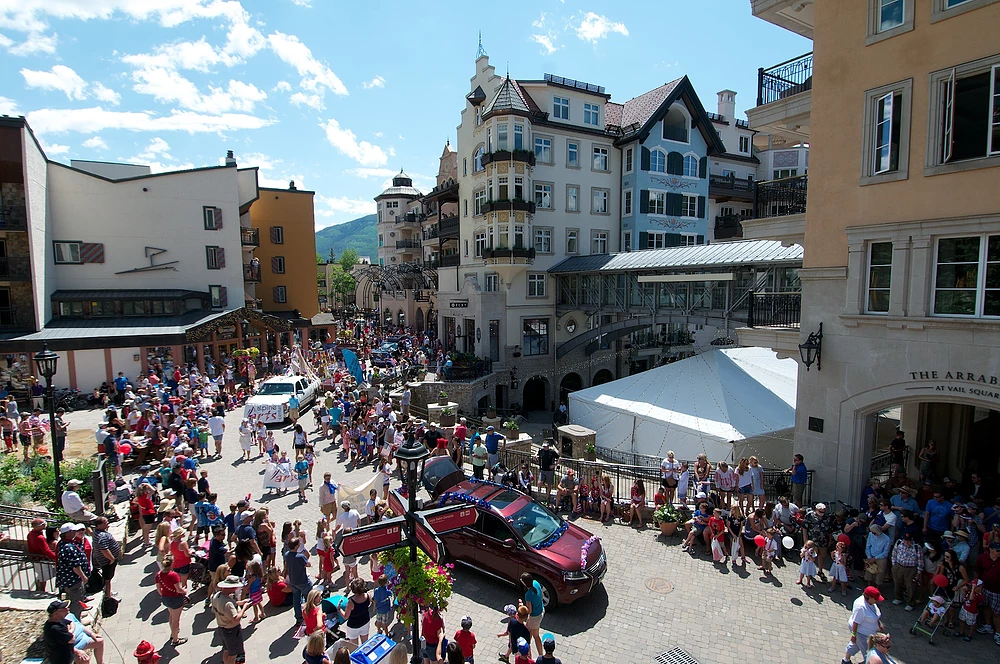 PARADE
Then at 10 a.m. Vail America Days' signature event the Vail America Days Parade kicks off starting in Golden Peak. The parade, which has the theme "America's Great Outdoors" this year, will wind its way from Golden Peak through Vail Village and end in Lionshead. Vail America Days is proud to announce Elaine and Art Kelton as the 2018 Vail America Days Parade Marshals. Long time residents, the Keltons represent the spirit of giving back to the Vail community.
FREE CONCERT
Then at noon in Lionshead, as soon as the Vail America Days parade winds down, the Vail Mountain School's CJM Jazz Trio will play a free concert, followed by Denver up-and-comers Boot Gun, Chain Station and the Drunken Hearts. The evening will top off with a performance by headlining bluegrassers, Horseshoes & Hand Grenades followed by the annual Town of Vail fireworks show.
PATRIOTIC CONCERT
On the other side of town, the Independence Day festivities continue at 2 p.m. at the Gerald R. Ford Amphitheater for this year's annual patriotic concert performed by the Dallas Symphony Orchestra. The concert is presented by Bravo! Vail and the Vail Valley Foundation.
LACROSSE – AMERICA'S OLDEST SPORT
At Ford Park, the Vail Lacrosse Shootout culminates its weeks long tournament with the professional lacrosse players from the Men's Elite Division, bringing fast-paced, exciting lacrosse action to the field. Lacrosse has been called America's oldest sport as its history in America pre-dates the Revolutionary War and was played by settlers and Native Americans during the French and Indian War. Collegiate and post-collegiate club players, as well as a few professionals, will gather in Vail to battle for the championship at Ford Park on July 4. Spectators are welcome to come and watch free of charge.
This year the Vail Lacrosse Shootout partnered with new tournament sponsor Lacrosse The Nations. Lacrosse The Nations uses the game of lacrosse as a platform to reach out to underpriviledged children, teach them life skills, promote education and bring joy to their lives. They have programs in Nicaragua, Costa Rica and in the U.S. and they would love to have you visit their booth at Ford Field during the Shootout to learn more about their efforts to help children.
FIREWORKS
Then at dusk Independence Day festivities wrap up for the day over in Golden Peak with Vail's annual fireworks show, conditions permitting. Don't miss this spectacular show, synchronized to a powerful musical soundtrack. You can tune in to 97.7 KZYR The Zephyr for a simulcast of this year's event.