Vail Mountain unveiled its new Epic Discovery summer mountain experience last week, featuring a 7-zipline canopy tour through Game Creek Bowl, as well as an alpine coaster at the top of the mountain.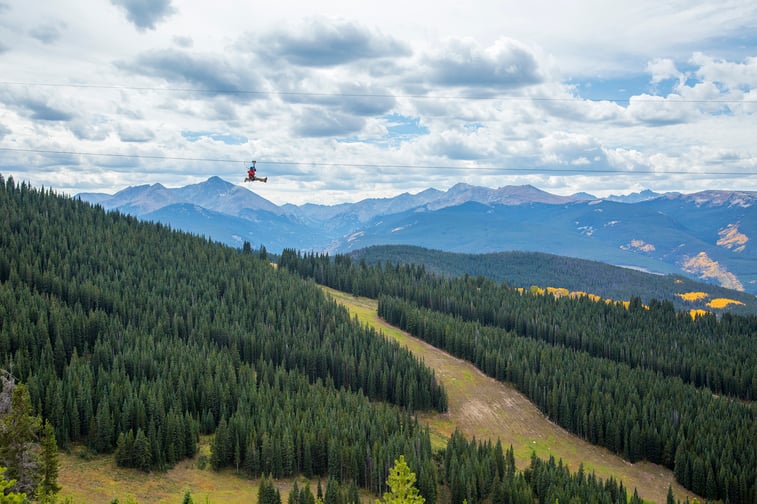 Epic Discovery provides a unique, connected, on-mountain summer experience, immersing guests in activities which provide big-time thrills, allow them to challenge themselves physically, guide them to explore and better understand their natural surroundings, and ultimately create lifelong memories. This first-of-its-kind comprehensive on-mountain summer adventure will feature components such as zip lines, an aerial adventure, alpine coaster, wildlife trail exploration, and interactive, "learn-through-play" activities.

"The finer things in life are hard and they take a journey of challenges. I think Epic Discovery is a great example of that," said Forest Supervisor Scott Fitzwilliams. "I think that this new adventure we are on is going to be something special for the community and for the people experiencing it in the end. We want to do more than just activities up here, we want to connect people to their natural forest."

Vail Mountain's Epic Discovery proposal received final approval from the U.S. Forest Service in October 2014, and the resort began construction the following summer with the addition of two rope challenge courses, summer tubing, a four-line Zip Flyer, as well as a kids' challenge course and kids' zip line. Last week, Vail unveiled the final components of Epic Discovery.

"Outdoor recreation and public lands are the core of Colorado's heritage and Epic Discovery is only going to further that experience," said State Senator Kerry Donovan. "I think that once families experience this they are going to get hooked and then be committed to preserving the natural environment for generations far beyond ourselves."

Through a partnership with The Nature Conservancy – the leading conservation non-profit organization – Epic Discovery will complement the eco-discovery experiences across the mountain with scientific content. Subsequently, Vail Resorts will utilize its new "1% For The Forest" program as a means to contribute one percent of all summer lift ticket and activity revenue to The Nature Conservancy for forest restoration projects on national forest lands.

"Healthy forests and healthy rivers are really important and so are our partnerships – today is one of those great examples. Vail has been the quintessential partner," said Executive Director of the Nature Conservancy Carlos Fernandez. "We are extremely proud of Vail for giving 1% to the planet. For us, today is a starting point with both Vail and the Forest Service for many years to come."

The following Epic Discovery experiences have debuted at Vail this summer:
• Game Creek Aerial Adventure: The ultimate outdoor experience, this guided tour will immerse guests in the forest habitat with an array of zip lines and aerial bridges as high as 300 feet above the valley floor. Guests will learn about the mountain environment from interpretive guides while working their way through the course.
• Forest Flyer™: This gravity-based alpine coaster allows guests on individual sleds to descend on a raised track through the forest while giving riders full control of their speed.
• Expanded Trail System: A wildlife exploration trail, featuring mountain flora and fauna story stakes and a series of installations that each resembles a different animal ability, such as vision, stride, agility and strength. Vail has partnered with The Nature Conservancy, the USFS and Walking Mountains Science Center to bring interpretive elements to the Epic Discovery experiences and will be contributing one percent of all summer lift ticket and activity revenue to The Nature Conservancy for forest restoration projects.