Vail gets hit with a spicy taste of New-Orleans-style fun when CarniVail returns to Vail, February 6th - 9th, 2016. Guests will enjoy Mardi Gras merriment and all the Cajun fixin's from a legendary crawfish boil to the Fat Tuesday Parade and Street Festival, with a full lineup of activities including on-mountain crawfish boils, non-stop Cajun Après and After-Dark parties, Fat Tuesday Parade and street festival, fun contests, prizes and giveaways, and much more.
There will also be a free concert from March Fourth Marching Band, hailed as an internationally-acclaimed, genre-breaking force in the world of entertainment. MarchFourth! shows are sonic explosion delivered by 20 musicians, dancers and artisans who travel the world, year-round, taking audience members of all ages, from all walks of life, on a joy-inducing, foot-stomping, booty-shaking, soul-stirring journey that defies categorization.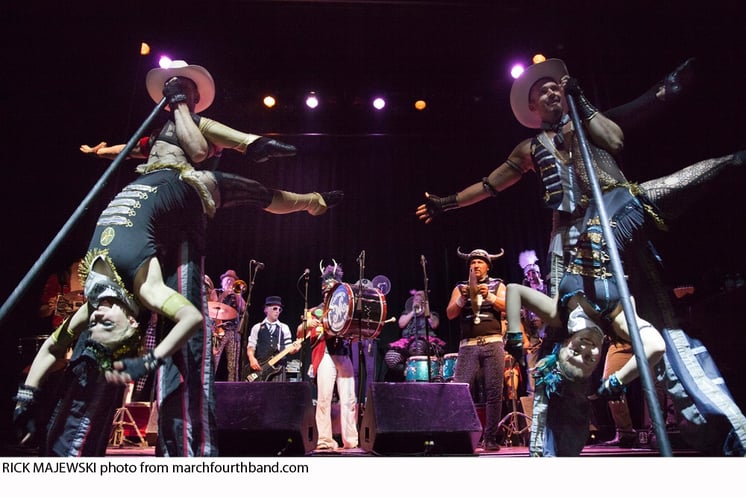 With exceptional musical quality and a visual kaleidoscope of stilt walkers, hoopers and Vaudeville-style dancers, MarchFourth! whips audiences into a celebratory frenzy with an over-the-top spectacle of high-energy compositions, colorful costumes, hilarious stage shenanigans, and irresistible charisma.

CARNIVAIL EVENT SCHEDULE

Saturday, February 6
World's Highest Low-Country Crawfish Boil at Eagle's Nest
Noon-2:30pm
• Menu: Combo plate with crawfish, sausage, corn, new potatoes, gumbo, etouffee, king cake, hurricanes and beer specials
• Live entertainment from Johnny Schleper and Friends
Bud Light CarniVail Party at Lift Express
11AM-5PM
Great giveaways, Bud Light specials and more

Sunday, February 7
Mardi-Gras at Mid-Vail
Noon – 3:00PM
• Menu items from Web: New Orleans Style Gumbo, Jambalaya, and Beignets
• Live entertainment from DJ Jon Nedza (Denver Yacht Club)
Bud Light CarniVail Party at Lift Express
11AM-5PM
Great giveaways, Bud Light specials and more

Monday, February 8
Après and after dark parties
Tuesday, February 9
3pm
The New Orleans-style celebrations continue in Vail Village with the Fat Tuesday Parade and Bud Light Street Party.
The venue in Vail Village opens at 3pm, with the parade starting at 4pm followed by a by a FREE concert with MarchFourth Marching Band. The parade will travel from Meadow Drive at Solaris, up International Bridge and east on Gore Creek Drive. It will exit out from Vail Village near Gorsuch on Gore Creek Drive and will conclude with the official crowning of the CarniVail King and Queen and announcement of the Float Competition winner at the concert stage. Vote for the King and Queen here. MarchFourth Marching Band will perform following the parade.
This performance is fun for the whole family and not to be missed! Locals and guests are encouraged to dress up in Mardi Gras apparel and beads and partake in all the CarniVail fun.
As part of Vail's CarniVail celebration, the Fat Tuesday Parade, scheduled for February 9, 2016, brings the crazy energy and antics of the New Orleans Mardi Gras vibe to Vail Village. Take part in the parade for a chance to win great prizes including $1,000 cash for first place. Judging will be based on creativity, workmanship, originality, costumes and casting and overall impression. Parade registration is absolutely free and open to the public.
*contains info from vail.com and marchfourthband.com