It's true there's lots of resorts to choose from on the I-70 corridor. What makes Vail stand out? The massive amount of terrain -- over 5,000 acres -- that it boasts. Even on Vail's busiest powder days, beginners, intermediate and expert skiers and snowboarders can find fresh snow for the entire day due to the sheer size of the resort.
Here's a few suggestions for those three groups.
Beginner
Every run is fun on a powder day and Vail has plenty green runs to offer, but as a beginner skier ans especially snowboarder it is important to avoid the flat spots. A green run that is even more fun with a few inches of fresh snow is
Swingsville.
It is a great run to lap as the six person
Mountain Top Express Lift
known as chair 4 will get you quickly to the top. If you are looking for something a little bit less traveled go to the east side of the mountain; both
Boomer
and
Sourdough
are local favorites and can be lapped using the
Chair 14 Sourdough Express.
If you do not get up early enough for the untracked powder you can always find plenty of leftover chop on the west side of
Sourdough
.
A snowboarder enters Game Creek Bowl on Vail Mountain
Intermediate
On the west side of the mountain, Game Creek Bowl offers plenty of great intermediate terrain. But it can get crowded as its a large bowl unto itself, and there's only one way out via Chair 7 Game Creek Express. Indeed, many in the country would feel fortunate to have Game Creek Bowl as their entire ski area. In Vail it's just one section of the west side of the mountain, which is one more section of a much larger network. If Game Creek is crowded, hop over to the front side of the west side of Vail Mountain, serviced by Chair 26 Pride Express. The Bwana and Simba runs on the westside/frontside are great powder day stashes, as well.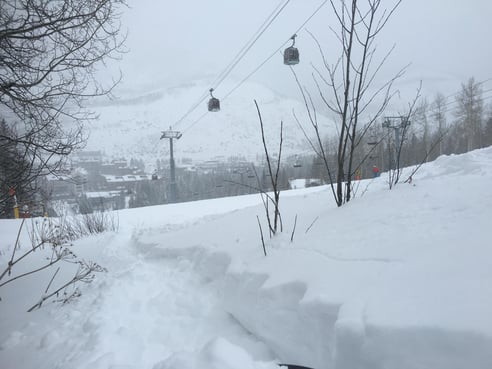 Powdery terrain off the lower Bwana run on the west side of Vail Mountain
Expert
Tree skiers love Vail as its high elevation, north-facing areas tend to preserve the powder for weeks after a storm, if those areas also happen to be covered with trees. On Vail Mountain several of those runs are bifurcated vertically by old log chutes, and horizontally by catwalks, especially on the east side of the mountain near Highline, which takes you to Chair 10 Highline Express, and Roger's Run which takes you to Chair 11 Northwoods Express. In between those sections is a powder lover's paradise as many of the tree areas aren't as dense as they look at first glance. If you're looking for powder and you happen to find yourself on a catwalk at the time, look up and down the fall line and you may find what you seek.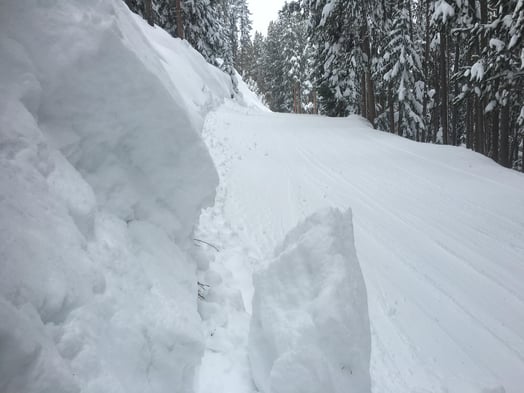 Chunks of power fall off the side of a tree run onto a catwalk on the east side of Vail Mountain