Beaver Creek will open for summer on June 10 with an array of summer activities and events providing fun for all ages and all ability levels, on and off the mountain. With 50 miles of mountain bike and 62 miles of hiking trails, 4x4 tours, horseback riding, rock climbing, swimming, whitewater rafting, kayaking, fly-fishing, golfing, tennis, famous rodeos, live music, fine dining, culinary and wine festivals, summer in the Rocky Mountains is as restorative as it is invigorating.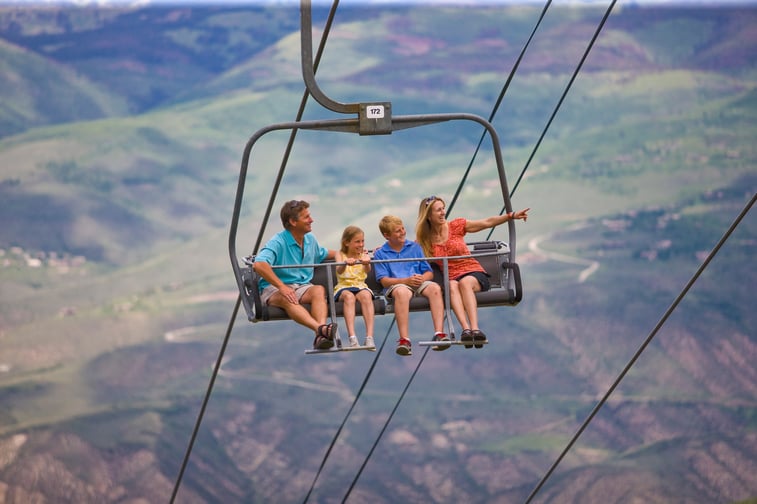 Beaver Creek Summer Adventure Center, the Gateway to Family Fun and Unique Experiences
Located in the heart of the Beaver Creek Village, the Beaver Creek Summer Adventure Center beckons guests to enjoy a Colorado mountain vacation of family outdoor fun. As the portal to all summer fun, the Beaver Creek Summer Adventure Center offers activity recommendations, hike, bike, and fly fishing guided tours, food and wine excursions, family activities, equipment rentals, tickets, packages, and more.
· The Kids' Action Pass offers a variety of close-by recreation on Beaver Creek's expansive lawn – such as the Bungee Trampoline, Ropes Course, Gem Panning, Climbing Wall, and Miniature Golf.
· Hiking Beaver Creek is an adventure of the senses, and professional guides offer guests an insider's tour of unrivaled scenery - from Lift & Lunch packages and serene nature tours to decadent wine and cheese excursions.
· From lift-served beginner rides and cruises through enchanting neighborhoods to thrilling cross country adventures and expert descents, guests of all ability levels are invited to access to 50 miles of mountain biking at Beaver Creek. The ease and convenience of the Summer Adventure Center offers bike and helmet rental equipment, guides, lift ticket sales and more.
· No visit to Beaver Creek is complete without a mountaintop glimpse of the surrounding peaks. Beaver Creek's Chairlift Ride & Lunch package invites guests to ascend the state-of-the-art Centennial Express Gondola to Spruce Saddle Lodge, which presides over Beaver Creek to offer guests its perennial view of the Gore Mountain Range.
Summer Lift Operations
June 10 – June 11: Weekend Operations Only
June 17 – September 4: Lifts Open Daily
September 9 – September 24: Weekend Operations Only