If you're coming to Vail for the first time, you may want to take advice from those who have been skiing here for years.
One example to follow might be that of Harvey Simpson. The Vail skier is 90 years old, and at 80 years old, he decided he needed to get better at skiing. How did he do this?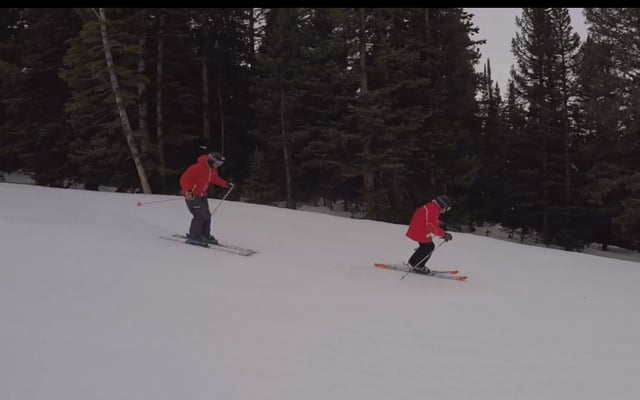 Harvey Simpson enjoys the company of pro skier Chris Anthony for his morning run on Vail Mountain.
Harvey says his style of lessons is to learn from imitation. He prefers to watch an expert ski instructor exhibit perfect form, and try to copy that person's movements while skiing behind them. They will even compare on film later; such are the modern techniques used to teach skiers in areas like Vail.
Harvey enlisted in the help of instructor Gunnar Moberg, who he loves. If you're going to take lessons, it's important for you to find an instructor that works well with your style, like Gunnar works with Harvey.
For years the pair used a repetitive technique to improve Harvey's skills, with Gunnar leading and Harvey following. It served Harvey well, as he says he is now a better skier at 90 years old than he was at 80!
Harvey's entire routine is a model to follow. Every morning, he walks up Bridge Street, a nice warm-up in itself, and picks up his skis from
Vista Bahn Ski Rentals
. Vista Bahn Ski Rentals is located at the base of Vail Mountain and is a really convenient and affordable place to leave your gear overnight and pick up the next morning.
Harvey also makes sure to meet up with friends on the mountain. Having good company around you is safer and also can make the experience more enjoyable. But even Harvey subscribes to the theory that there's no friends on a powder day! His favorite conditions are when there's just a couple inches of fresh snow over the top of a groomed run, and on those days, you can find Harvey out there getting as many laps as he can in in the mornings before too many people arrive at the hill. If you're lucky enough to find such conditions on your trip, you'd be wise to do the same.
During the ski day and after skiing Harvey makes sure to join his friends for a nice meal. One of the places he recommends is the new Swiss-style restaurant
Almresi
in Vail Village. The restaurant is run by a German family and feels like an alpine lodge from the old country. It has only been there for a year and it's already one of Harvey's favorites!
Here's a video from the Vail Daily that details more about Harvey and his theories on lessons and skiing.