We all like to plan our days when on vacation, making sure we hit all the spots recommend on the travel sites. However sometimes things don't happen exactly as planed, so it is nice to have a few options for when you cannot get appointments at your favorite spa or a reservation at the restaurant you wanted to check out. If you are in Vail and having one of these days and in need of a good place to grab food without a reservation, check these 5 places.
Bart and Yeti's
If you are in the Lionshead area of Vail and need to grab dinner but don't have reservation try Bart and Yeti's. It is one of the oldest places in Vail and has a great atmosphere. It's a great place to watch a game and talk to locals about your ski day. Beside the great history you will find some seriously delicious comfort food. Some of the crowd favorites include the green chili, the onions rings and the Irish fries. The bar also have a great selection of craft beers.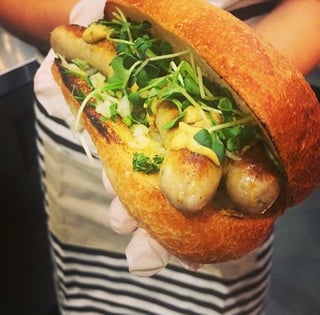 Vail's iconic Swiss Hot Dog available the Blu Cow in Vail Village is a must
Blu Cow
At the base of the mountain in Vail Village, a great spot to grab a bite without needing a reservation is the Blu Cow. This is the home of Vail's famous Swiss hot dog — made following a generations passed recipe this sausage has been on the Vail must-do list for decades. The Blue Cow offers a few other great food options including Earnest's famous 21 vengatable and herb soup, and a lively bar atmosphere with delicious cocktails and craft beers. The place is a modern combination of classic ski bar and an European cafe with friendly staff and a cult-like followers.
West Vail Mall is a great place to grab dinner if you don't have a reservation and have a big party with you. A locals and visitors' favorite in the mall is Yellowbelly, a classic chicken joint with amazing sides. Everything in the restaurant is made in-house from scratch everyday using premier ingredients and sourcing non-GMO and organic products when possible. Even though Yellowbelly is famous for its natural friend and rotisserie chicken, they have delicious vegetarian options and can accommodate most dietary restrictions and allergies. The restaurant is a perfect casual dining option for the whole family.
Little Diner, Moe's BBQ and Expert Burger
Moe's is a good secret in Lionshead, it's at the less frequented west end of the village and with delicious Alabama barbeque being smoked fresh every day it's a place you may smell before you see. It can get crowded inside at the small bar but there's plenty of outdoor seating. Right next to Moe's is the Little Diner, a top breakfast place in Vail which started doing dinners recently. You don't need a reservation there but it's often full with a long wait, however since Moe's is right next door a good move is to head over to that end of Lionshead and pick one. To round out the spot we have Expert Burger, craft burgers that any burger lover will remember fondly. This great little triangle of food stops is located near the Lionshead Circle bus stop and can easily be missed if you don't know they're there.