Vail is a great place to come vacation with your family, skiing is a bonding family experience and its great to start early, but traveling with kids everything can get stressful from the long flights, change in time zones and kids getting more worn out from skiing.
So here's 5 tips to take the stress away from the family vacation and just leave the good time and memories
1) Packing for the trip
Traveling with young kids, babies and toddlers, you have to take their favorite things, strollers and accommodating for a good night's sleep means taking a whole bunch of stuff with you and sometimes the stuff gets lost. So it's best to just rent the eqipment in advance and not travel with everything. The Vail Welcome Centers have strollers for use and there are companies who rent them, as well. One such company is
Travel Vail Baby
, who provides quality baby and toddler equipment rentals including cribs, strollers, high chairs, car seats, hiking backpacks, pack-n-plays, swings, toys, humidifiers and much more. They provide delivery provided to anywhere in Vail, Beaver Creek, Bachelor's Gulch, Arrowhead, Avon, Edwards and Cordillera.
2) Transporting your luggage
For the luggage you have to bring but don't need access to during the actual traveling itself, there's a company called
SkiPods
which offers luggage pickup from your home and drop off at your destination with reasonable pricing - $80 for ski bags and/or large suitcases; $55 for boot bags and/or small suitcases. They email you status updates along the way and have a way of making you feel much safer than checking your bags. If you're bringing your own skis this is definitely the way to go.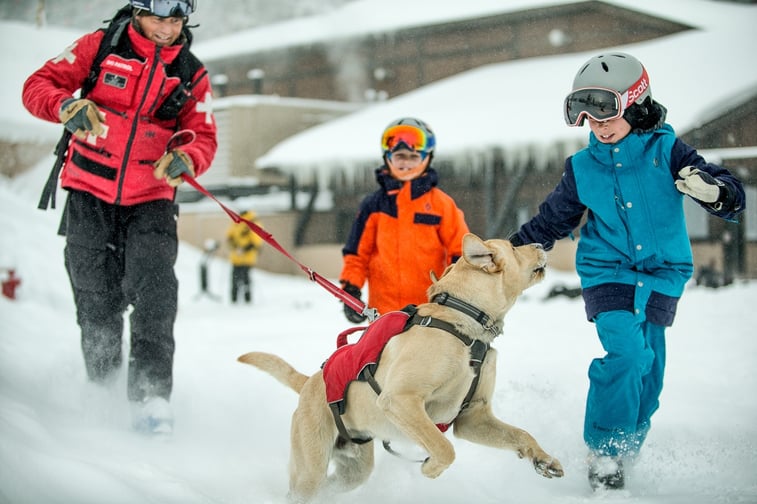 3) Getting your family's equipment
If you plan on renting the Vail Valley has several ski concierge services which deliver the skis of your choice to wherever it is you're going to need them, rather than having to go to the shop with the family and keep the kids corralled while you're trying on your skis. One such ski concierge service is black tie ski rentals
http://govail.com/services/ski-rentals/686-black-tie-ski-rental-delivery
which offers delivery and custom fitting free as a part of the service.
4) Keeping everyone fed
One of the trickiest things that comes up while vacationing with kids is keeping everyone fed, even if you're making regular trips to restaurants and buffets sometimes you can't do it all. The best secret here is using a grocery delivery service rather than trying to get to the grocery store during your vacation to keep meals and especially snacks around and readily available. Resort Delivery is a popular grocery delivery service.
http://govail.com/services/other/663-resort-delivery
5) Keeping everyone entertained
Making sure that everybody in the family is having a good time is what makes a family vacation successful. While enjoying the powdery snow on the mountain is guaranteed to put mom and dad in a good mood the youngsters might require a bit of creative planing in advance. If you are traveling with a child too young to join in on the mountain activities book a knowledgeable local baby sitter from one of the agencies in town.
Resort Sitters
,
Care 4 kids
, and Mountain Sitters are all very accommodating and have sitters available seven days a week. Designating a few days for adult only skiing could be a great experience for both the parents and the kids. Vail Ski & Snowboard school offers world-class lessons with variety of classes to perfectly fit the ability level of your child. The professional instructors make sure your kids have a lot of fun on the mountain while learn new skills and making new friends. If you are vacationing with teenagers check
Beaver Creek's event calendar
for the dates of BC love teens program. Designed for ages 13-17, the Beaver Creek Loves Teens programs will entertain and engage your young adult in all things Beaver Creek and beyond.