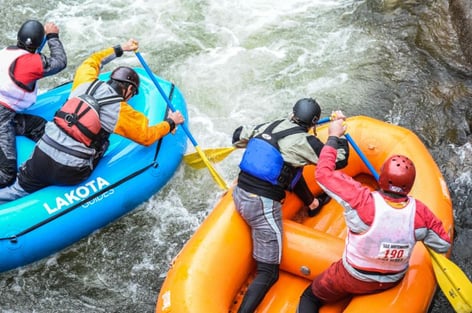 Vail is among one of the most popular mountain resort towns in the country, and arguably the world. Known for its challenging ski slopes, picturesque winter scenery, and cozy mountain village, Vail offers a wide variety of activities, dining, and nightlife for all members of the family to enjoy throughout the year. In this latest post, we've detailed out five things that families can, and should, take advantage of while they are in town.
1 – Rafting
Rafting across the waterways throughout Colorado can be a great way to enjoy a vacation to Vail. There are many companies offering rafting and kayaking guides, with plenty of opportunities for rafters of all ages and experience levels. Consider the programs offered through AVA, which include the Browns Canyon Sizzler + Zipline 2 Day Cabin Package. Designed for families with children ages 7 and up, this package combines comfortable accommodations with exciting rafting and zip lining for a beginner's introduction to adventure sports in Colorado.
2 - Adventure Parks
Throughout the region, there are a number of adventure parks that combine roller coasters with exploration of local sites. A leading option is Glenwood Caverns Adventure Park, which offers a memorable day out for all the family. Featuring the roller coaster with the highest elevation in North America, Glenwood Caverns Adventure Park is the ideal choice for families with children of all ages. The park also offers families access to a laser tag arena and a giant canyon swing!
3 - Vail Discovery Center
The Vail Discovery Center is a fascinating collection of flora and fauna right here in the heart of Vail, CO. The center will introduce families to the exciting species found throughout the region as part of their interactive exhibits. They also offer daily nature walks led by specialist guides who can help answer any questions of inquisitive young minds as they explore the beautiful, local, and natural landscapes.
4 - Balloon Rides
For a memorable day out with family and friends in Colorado, visitors to Vail might enjoy a balloon ride. Many companies are offering hot air balloon rides highlighting the Vail landscapes and beyond. One option is Camelot Balloons, Inc., a Vail-based company offering affordable pricing on hot air balloon rides for the entire family! It is one of the best things to do in Vail for those with a sense of adventure and a love of the local landscape.
5 - Horse Riding at Beaver Creek Stables
Horse riding is an activity that will bring joy and excitement to riders of all ages. Visitors to Vail looking for that unforgettable horse-riding experience can take a short drive to Avon, CO and the captivating surroundings of Beaver Creek Stables. Beaver Creek visitors can choose between several ride options, including the Beaver Creek Lake Ride, the Three-Hour Picnic Ride, and the Two-Hour Horseback Ride.
Offering an activity for all types of group and family outing, Vail is your ideal destination this year!