1) Variety of activities available
Everyone knows Vail for its outdoor fun. The mountain is among the biggest in the country with 19 high speed lifts taking you across nearly 6,000 acres, there's two mountain bike haul capable enclosed gondolas in the summer, a hard trail rec path system intertwines Vail and connects it to the rest of Colorado, and a soft trail network also connects in with the rest of the county. In addition to mountain biking and snowsports, the Vail area is known around the world for its whitewater sports, fly fishing, rock climbing, ice climbing, and the Vail Pass rec path – the highest elevation paved rec path running along an interstate in the U.S. – is an international destination for road biking and downhill skateboarding.
But the Vail area also has a lot of indoor fun available for all, including a public museum, children's center, world-class theater, many shops,
clubs, restaurants, buffets
, indoor
spas
and pools, arcades, a
dine-in movie theater
, a
drive-in movie theater
, an indoor ice rink with a
WSHL team
, gyms, climbing walls,
a Pokegym
, and a
world renowned medical research center
.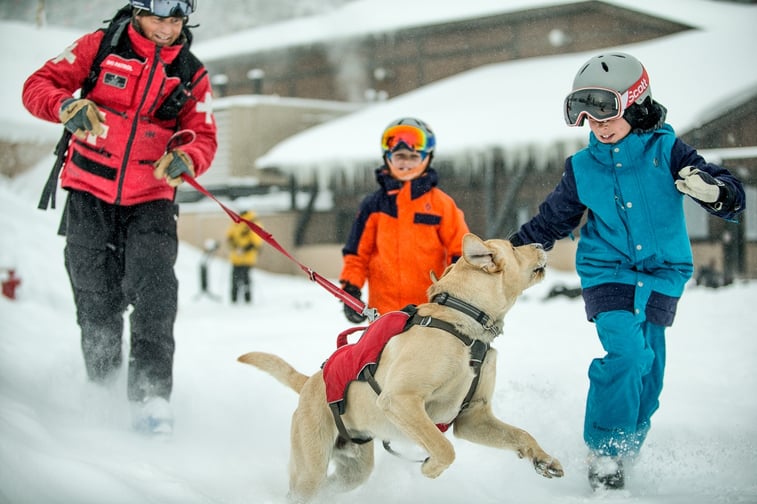 Any ski patroller will tell you Vail's "rescue dogs" are always excited to play with the kids
2) Convienence
Vail is located right off I-70, one of the few ski resorts in the country to have base lifts located just 1,000 feet from the freeway. Two of those lifts are enclosed Gondolas which make things really nice in the winter when it's snowing. Public welcome centers in both the Vail and Lionshead parking garages allow you to get your gear together and plan your day in a cozy environment.
3) Easy to get to know
While 6,000 acres of lift-served and skiable National Forest land may seem vast at first, the layout is so ingenious you can get to know it in just a few trips. Down in the town, Vail also has a very dependable
public transportation system
with frequent stops at a multitude of locations. It's on the same schedule every year, so once you get to know it you can commit it to memory.
4) You can do Vail cheaper than other mountain destinations
It's true, and the reason why is listed in the above point about how Vail is easy to get to know. That bus system is dependable, and free
–
the largest free bus system in the nation. Take a free bus to a
unique park
, bring your bike, stop at one of the two major grocers, located right next to each other in direct competition for lower prices. Enjoy the free concert series. Take in the nation's highest elevation botanical garden with the wide open kids park next to it. Walk along the river. And Vail's Epic Pass is still one of the most affordable season passes in skiing for the amount of terrain it allows you to access.
5) It's worldly
Vail is an international destination, first and foremost. Many of its earliest forefathers were immigrants and a strong immigrant culture still exists in the town today. It has hosted World Championship events like the World Alpine Ski Championships in 1989, 1999 and 2015, and the downhill mountain bike World Championships in 1994. It hosts a World Cup skiing event and a World Cup rock climbing event every year.
A walk down the town's main street of Bridge Street will reveal many worldly details like a salute to the World War II mountaineer who fought in Italy, and regular buildings decorated in European sgraffito, a plaster layering technique invented in Italy in the 15th century. Certainly Vail is one of the only locations in the U.S. where sgraffito is one of the main forms of building decoration!